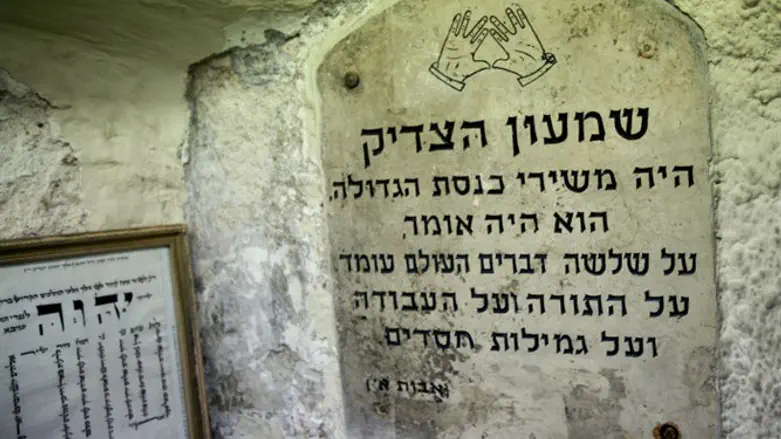 Shimon Hatzadik
פלאש 90
During the course of maintenance and upgrading work on the road leading up to Shimon Hatzadik's tomb, more ancient burial caves were discovered.
The work, which is being performed by the Moriah company for the Jerusalem Municipality, is taking place on Derekh Shekhem near the Pierre Van Passan traffic circle in the Wadi Joz neighborhood adjacent to Shimon Hatzadik's grave, in order to ease traffic on the main road leading up to Sheikh Jarrah.
During the course of the work, a number of ancient burial graves were discovered on the site of the road, including a burial cave with crypts, which testify to it being a Jewish burial site.
Experts from the "Atra Kadisha" group arrived at the site and investigated the findings. They stated that a special solution must be found to allow kohanim access to the area.
Until such a solution can be found, kohanim will only be able to reach the area of Shimon Hatzadik's tomb from the northern entrance near Shimon Hatzadik Street and the Central Police Headquarters.
Atra Kadisha representatives asked Deputy Mayor Yossi Deitch to intervene immediately and find a speedy solution which will enable kohanim to use the main road and to access the area of Shimon Hatzadik's tomb.
Deitch toured the area with Atra Kadisha experts and representatives of the Moriah company and a number of halakhic and engineering solutions were proposed which could be implemented in the near future and would enable kohanim to pass through the area.
The Deputy Mayor directed the representatives of the Moriah company to build a traffic circle at the entrance to the tomb area and to complete their work as soon as possible in coordination with the Atra Kadisha representatives. Deitch emphasized that until a solution is implemented, the area is prohibited for the passage of kohanim.