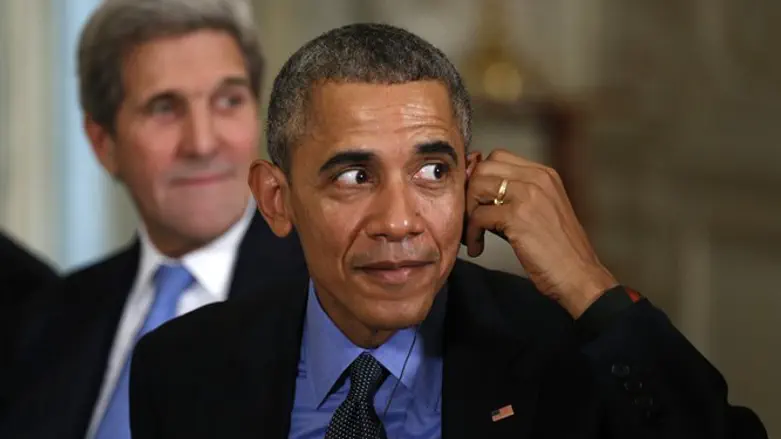 Barack Obama, John Kerry
Reuters
A week after the United Nations Educational, Scientific and Cultural Organization (UNESCO) ratified a resolution negating the Jewish ties to the Temple Mount and Western Wall, Texas Senator Ted Cruz (Republican) rebuked the Obama White House for not making a diplomatic effort to fight the controversial measure.
Noting the vocal bipartisan opposition to the measure, expressed in a joint letter prior to the vote, Cruz took the Obama administration to task for choosing to "look the other way."
"America should be rallying our friends and allies to oppose these insidious UNESCO resolutions that attempt to undermine the historic connection of the Israeli people with all of their country, including their capital, Jerusalem," Sen. Cruz argued in an opinion piece published by The Washington Times.
"And if President Obama continues to prioritize his political legacy over the national security interests of the United States—which would be a secure and sovereign Israel—Congress at least should have the courage to lead this charge."
"When given an unprecedented opportunity to rally support for Israel at UNESCO as nations that have voted reflexively in support of the Palestinians shifted their positions, America chose to look the other way.
"The Obama administration has attempted to explain that America was powerless to prevent the resolution's passage because our laws have prohibited funding to UNESCO after it accepted 'Palestine' as a member in 2011, and that the solution is to restore funding. But other UN entities have not followed UNESCO's lead because they disagree on the Palestinian issue, but rather because they fear the loss of the US taxpayer dollars that pay their salaries—leverage America can and should exploit. Additionally, support for the Palestinians no longer seems to be an article of faith for a number of countries such as Mexico and Brazil, not to mention our NATO ally Italy, and they now might be inclined to join with the US in supporting Israel.
"But this is not an opportunity the Obama administration appears interested in seizing.
"Unfortunately for Mr. Obama, he may well have selected a rare issue on which there is robust, bipartisan consensus in Congress."
On Monday, Cruz signed onto another joint, bipartisan letter by members of Congress opposing yet another planned UNESCO resolution.
The latest UNESCO measure "denies the historical connection of the Jewish people to its holy sites in Jerusalem."
Entitled "The Old City of Jerusalem and its Walls," the proposed resolution continues a pattern set by the recent UNESCO measures which present key sites in Jerusalem as Islamic, negating their far older ties to Judaism.
"Members of the World Heritage Committee should reject this pernicious effort to delegitimize Israel, and vote against this resolution that attempts to rewrite thousands of years of Jerusalem's Jewish identity, which has been scientifically reaffirmed by the archaeological record," Cruz wrote on Monday.