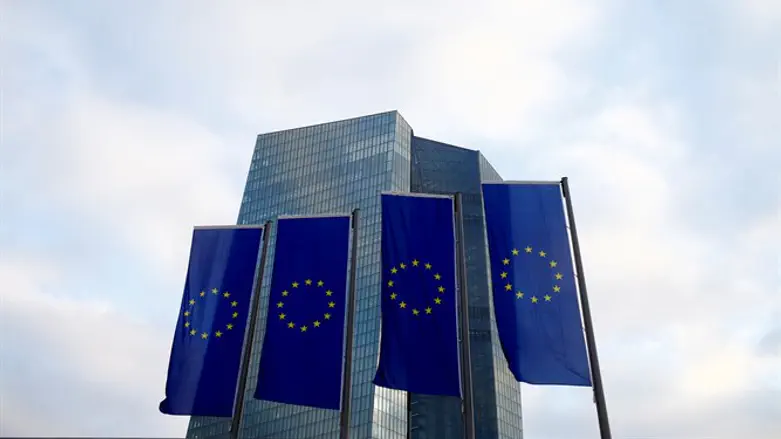 European Union flags
Reuters
The European Union (EU) on Friday issued a statement condemning Israel for approving the construction of 98 homes on government-owned land in Shilo. The housing units are for residents of the community of Amona who are slated be evicted from their homes.
"This decision continues the accelerating trend of new settlement announcements since the start of 2016 and risks further separating Ramallah from Nablus and thus further undermining the contiguity of a future Palestinian state," the statement said.
"The retroactive authorization of nearby illegal outposts or redrawing of local settlement boundaries contradicts previous public statements by the Government of Israel that it had no intention of creating new settlements," it continued.
"The decision to continue settlement building and expansion goes directly against the recommendations of the Quartet Report, weakens rather than strengthens the prospects for a two-state solution to the Middle East peace process, and makes the possibility of a viable Palestinian state more remote," charged the EU statement, which added that "settlements are illegal under international law.
"Continued settlement expansion also calls into question Israel's commitment towards reaching a negotiated agreement with the Palestinians," concluded the statement.
The EU's condemnation follows a sharp condemnation by State Department spokesman Mark Toner this week.
Toner called the new construction "another step towards cementing a one state reality of perpetual occupation."
The latest Israeli plan, Toner claimed, would "make the possibility of a viable Palestinian state more remote."
Israel rejected the State Department's criticism, pointing out that the new 98 housing units are not a "new settlement" and would be built on state land, within the existing municipal boundaries of Shilo."
The new housing units "are designed to provide a housing solution for the residents of Amona who are forced to leave their homes under demolition orders of the Supreme Court," Foreign Ministry officials stressed.
They added that "Israel remains committed to a two-state solution, in which a demilitarized Palestinian state recognizes Israel as the state of the Jewish people. The real obstacle to peace is not the 'settlements', but rather the ongoing Palestinian rejection to recognizing Israel."
(Arutz Sheva's North American desk is keeping you updated until the start of Shabbat in New York. The time posted automatically on all Arutz Sheva articles, however, is Israeli time.)