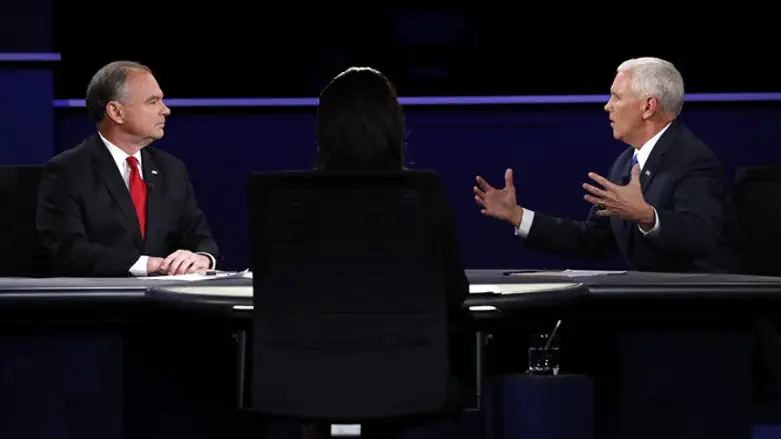 Kaine and Pence debate
Reuters
Vice Presidential candidates Mike Pence and Tim Kaine squared off on Tuesday night at in a debate at Longwood University in Virginia.
Kaine, who was the first to respond, was asked why he became Hillary Clinton's running mate, replying that the test of their administration will be changing lives for the better.
"She said to me, 'you've been a missionary and civil rights lawyer, mayor, lieutenant governor and governor, and now a senator.' You have the experience," he added, before taking a shot at Republican candidate Donald Trump and saying, "The thought of Donald Trump as commander in chief scares us to death."
Pence then spoke, saying that these are dire times for the nation and citing conflicts overseas and Obamacare at home as examples of those dire times.
Pence added that he had never imagined he'd be governor "let alone be sitting at a table like this."
"I would hope that if the responsibility ever fell to me, that I would meet it... with a lifetime of experience," he said, citing growing up, serving in Congress and "leading a state that works."
Kaine was then asked why do 60% of voters not trust Hillary Clinton, with the moderator Elaine Quijano noting issues such as Clinton's private email server and the Clinton Foundation.
Kaine replied by saying he trusts Clinton because "Hillary Clinton has that passion" to serve others with a special focus on civil rights.
"It's always been about putting others first, and that's a sharp contrast with Donald Trump. Donald Trump puts himself first," he added, before blasting Trump by saying he started his political career by calling Mexican rapists and promoting the "birtherism" controversy.
Pence was asked why voters do not trust Trump, and he first responded to Kaine's criticism and telling the Democratic nominee that he and Clinton "would know a lot about insult... she is the architect of the Obama administration's foreign policy... Syria today is the result of a failed foreign policy."
Pence added that the campaign of Kaine and Clinton "has been an avalanche of insults."
Pence then specifically related to Trump's taxes, following reports on the weekend that the Republican nominee may have avoided paying taxes.
The returns, he explained, "show that he faced some pretty tough times 20 years ago... we have a tax code that actually is designed to encourage entrepreneurship... he went through a very difficult time, but he used the tax code just the way it's supposed to be used."
The next question was with regards at law enforcement, and Pence said he agreed with the idea of a community policing, a notion also supported by Kaine.
At the same time, Pence blasted Clinton and said she has referred to "implicit bias" in law enforcement.
"We ought to stop seizing on these moments of tragedy. Enough of this seizing on every opportunity to demean law enforcement," he added.
Kaine responded by saying people should not be afraid to bring up the issue of bias in law enforcement.
The two then discussed immigration reform, with Pence saying that Trump has a plan on the issue, which includes increasing border security, helping border patrol, and removing "illegal aliens and people who have overstayed their visas."
The topic of the Islamic State (ISIS) jihadist group also came up at the debate, with Pence arguing that the Obama administration created ISIS by failing to renegotiate a status of forces deal in Iraq.
Pence also blasted the Iranian nuclear deal and pointed out that the agreement put Iran on the path to a nuclear weapon.
Kaine, for his part, argued that the opposite is true.
Pence retorted by saying, "Ronald Reagan also said nuclear wars should never be fought because it could never be won, and the United States of America needs to make advancements in modernizing. But let me go back to this Iran thing. You keep saying that Hillary Clinton started the deal with the Iranians, prevented them from getting a nuclear weapon. That is not what Israel thinks."
He continued, "I know you boycotted Prime Minister [Binyamin] Netanyahu's speech. When I was in congress, I fought hard on a bipartisan basis with Republican and Democrat members to move forward the toughest sanctions literally in the history of the United States."
Going back to the immigration reform, Kaine said Pence was "violating the constitution by blocking people based on their national origin."
"Hillary and I want to focus on danger. These guys say all Mexicans are bad. ... Donald Trump said keep them out if they're Muslim. We should focus on danger, not upon discrimination," said Clinton's running mate.
Asked how to stop North Korea from developing a missile capable of reaching the United States, Pence called to rebuild the American military and marshal American forces to build a coalition to fight the problem.
"When Donald Trump is president we're going to go back to the days of peace through strength," he vowed.
Kaine criticized Trump and Pence for praising Russian President Vladimir Putin, saying, "Donald Trump and Mike Pence has said [Putin] is a great leader. He has business dealings with Russia that he refuses to disclose. Hillary Clinton has gone toe to toe with Russia. She did so as secretary of state with the new start agreement to reduce Russia's nuclear stockpile."
Pence rejected those accusations as "completely false".
"When Donald Trump and I observed in Syria and Iran and Ukraine that the bullying leader of Russia has been stronger on the world stage than this administration is stating facts. That is not an endorsement of Putin," he explained.