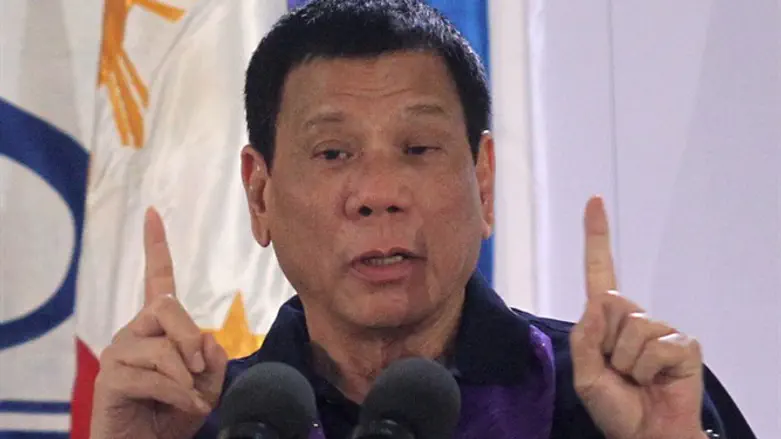 Rodrigo Duterte
Reuters
Philippine President Rodrigo Duterte on Sunday apologized to Jews for his controversial remarks comparing himself with Adolf Hitler, but also said he did nothing wrong and reiterated his desire to kill millions of drug addicts, AFP reported.
Duterte, whose bloody war on crime had already drawn international condemnation, sparked fresh outrage on Friday when he likened his deadly crime war with Hitler's efforts to exterminate Jews.
Duterte said he was merely reacting to critics who drew comparisons between him and the Nazi leader.
"So I said, 'sure I am Hitler, but the ones I will kill are these (drug addicts)'," Duterte said in a speech broadcast on national television.
"But it is not really that I said something wrong. But rather they do not really want to tinker with the memory so I apologize profoundly and deeply to the Jewish (people)," he continued.
"It was never my intention but the problem was I was criticized using Hitler, comparing to me. But I was very emphatic. I will kill the three million," stressed Duterte.
His comments were criticized by, among others, Ronald S. Lauder, president of the World Jewish Congress, who said that Duterte's implied praise for Hitler is "revolting" and "unacceptable."
"These statements are revolting, and President Duterte must retract them and apologize," said Lauder.
Acknowledging that "drug abuse is a serious issue," Lauder said that still, "what President Duterte said is not only profoundly inhumane, but it demonstrates an appalling disrespect for human life that is truly heart-breaking for the democratically elected leader of a great country."
Duterte, 71, won elections in May in a landslide after a campaign dominated by his pledge to eradicate drugs in society by killing tens of thousands of people.
Since taking office on June 30, police have killed more than 1,200 people and about 1,800 others have died in unexplained circumstances, according to official figures.
Duterte recently made headlines when he launched a series of personal attacks against U.S. President Barack Obama after the Obama administration challenged Duterte's tough anti-drug policies.
Incensed by the U.S. President's plans to pressure him to change course, Duterte exploded on air, calling Obama a "son of a whore" in response to a reporter's question on the issue.
When asked about the incident, Obama downplayed the comments, describing Duterte as "a colorful guy."
But following Duterte's comments, the White House promptly cancelled talks between Obama and his Filipino counterpart.
(Arutz Sheva's North American desk is keeping you updated until the start of Rosh Hashanah in New York. The time posted automatically on all Arutz Sheva articles, however, is Israeli time.)