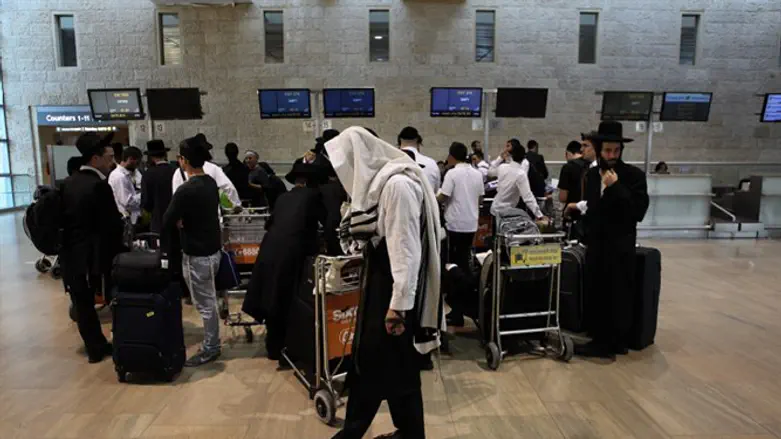 Breslav Hasidim
Flash 90
Rosh Hashanah will be celebrated in another week and the Israel Airport Authority is bracing for the yearly mass flights to the grave of Rabbi Nachman of Breslav (Bratslav) in the Ukrainian town of Uman.
According to Airport Authority reports, by the eve of Rosh Hashanah some 160 flights are expected to leave Ben Gurion airport in the direction of Uman carrying some 30,000 worshipers.
The registration procedures for flights as well as passport control will be performed in Terminal 1 and Terminal 3. The travellers to Uman, most of them Breslav hassidim, will be asked to arrive 4 hours before their flight in order to ease the burden on the airport which is very crowded to begin with during the holiday season.
During the festival period, an estimated 1.7 million travellers are expected to pass through Ben Gurion airport. The airport authorities say that this represents an 8% increase over last year.
As it does every year, on Yom Kippur eve which will fall on the Tuesday after Rosh Hashana, flight activity will come to a halt until after the fast.
Rebbe Nachman of Breslav was a great-grandson of the Ba'al Shem Tov and the founder of the Breslav hassidic court, whose name comes from the Ukrainian town in which Rebbe Nachman lived for the last eight years of his life.
In the nineteenth century, the movement experienced a huge growth in followers from countries such as Ukraine, White Russia, Lithuania and Poland. Rebbe Nachman's philosophy combined in-depth Torah study with Kabbalah, and involved striving for closeness to G-d. He placed a great emphasis on hitbodedut (self-seclusion), an individualized form of prayer and meditation meant to deepen one's relationship with G-d.
The tradition of the annual pilgrimage to Rebbe Nachman's gravesite in Uman, Ukraine is rooted in a tradition that began during his lifetime, when thousands of hassidim would travel to be with him and learn from him during the holidays of Rosh Hashanah, Hanukkah and Shavuot.
Every year, many followers from Israel and around the world continue the tradition and fly to Uman to pray by the Rebbe's gravesite around the time of Rosh Hashanah.