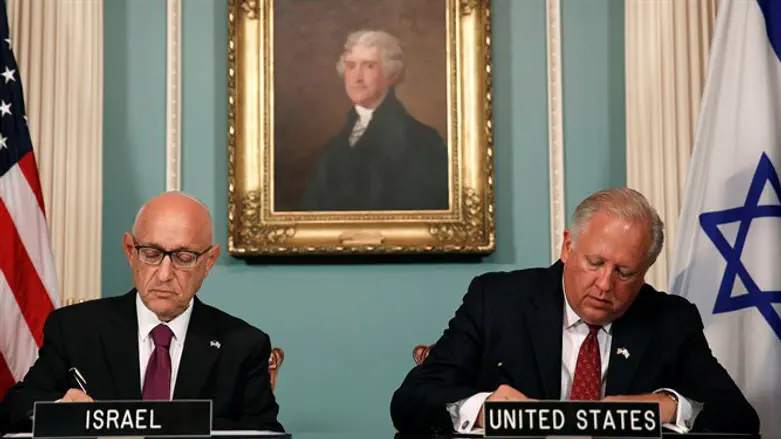 Signing of defense aid agreement
Reuters
Four Republican lawmakers in the United States said on Tuesday they would seek to overturn parts of a $38 billion military aid agreement with Israel, Reuters reported.
Senators Lindsey Graham, Kelly Ayotte, John McCain and Ted Cruz told a news conference they wanted to add a measure giving Israel an additional $1.5 billion in military aid to a bill expected later this year to renew U.S. sanctions on Iran.
Arguing that Congress, not the administration, sets spending policy under U.S. law, they objected to a provision in the agreement preventing Israel from asking for additional funds from Congress after the new Memorandum of Understanding (MOU), begins at the end of fiscal 2018.
"This is a very dramatic moment in the U.S.-Israel relationship between Congress and the state of Israel. Congress is not going to sit on the sidelines," Graham said, according to Reuters.
The four senators also object to Israel's agreement to return any money if Congress tries to send it more than $3.8 billion per year before then.
Graham told the news conference he would introduce legislation to overturn a provision in the agreement that phased out a special arrangement that has allowed Israel for decades to use 26.3 percent of the U.S. aid on its own defense industry instead of on U.S. weapons.
Graham has been at the forefront of the efforts to ensure Israel receives more funding. Reports last week indicated that he was responsible for the delay in signing the MOU concerning the security aid to Israel, due to the fact that he believed Israel deserved more funding.
After the agreement was signed last Wednesday, Graham opined that Israel made a mistake by signing a new $38 billion security agreement with the Obama administration, saying Israeli Prime Minister Binyamin Netanyahu could have gotten a better deal if he had waited until President Barack Obama left office.
The senators insisted that Netanyahu had been forced into signing because Iran is growing stronger as it obtains billions of dollars unfrozen under a nuclear agreement reached last year.
"Now is not the time to say that we're going to nickel and dime Israel," Graham said, according to Reuters.