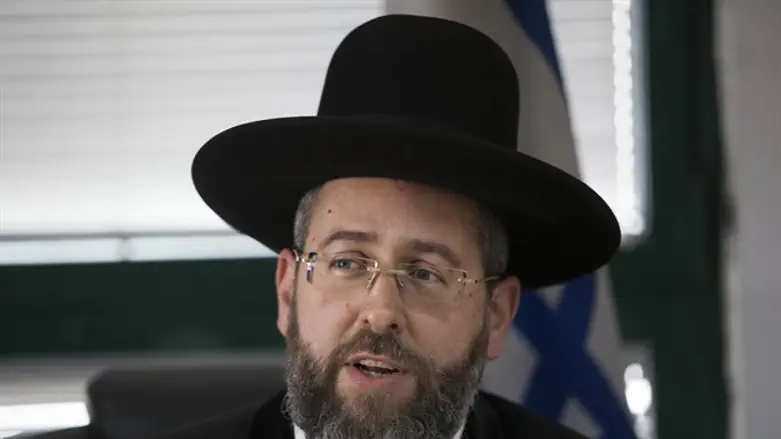 Rabbi David Lau
Flash 90
The Chief Rabbi of Israel, Rabbi David Lau, opened the meeting of the Chief Rabbinate Council today (Monday) with a sharp condemnation of the violent acts being perpetrated against the Chief Rabbi of Kiryat Gat, Rabbi Moshe Havlin and his family.
Rabbi Havlin was part of a group of senior Chabad rabbis who signed an agreement allowing members of the hassidic group to enlist in the IDF. This decision, seen as caving in to the secular, infuriated extremists from different parts of the haredi sector.
Rabbi Lau mentioned that "Rabbi Havlin was rudely attacked", adding that "The obligation of a rabbi is to say G-d's word and we wish to strengthen his continued will to speak in G-d's name. Even if other rabbis disagree with his viewpoint there are other ways to do this and violence is definitely not the way."
"We send our best wishes to his wife for a speedy recovery and we all pray that Rabbi Havlin will continue to sanctify G-d's name and disseminate Torah," added Rabbi Lau.
Yesterday an Eda Haredit demonstration took place opposite Rabbi Havlin's house in Kiryat Gat and last week demonstrators who disrupted the peace were brought to the local police station. A number of extremists who had broken into the Rabbi,s home and verbally abused him, causing his wife to feel faint. were arrested and charges were swiftly brought against them.