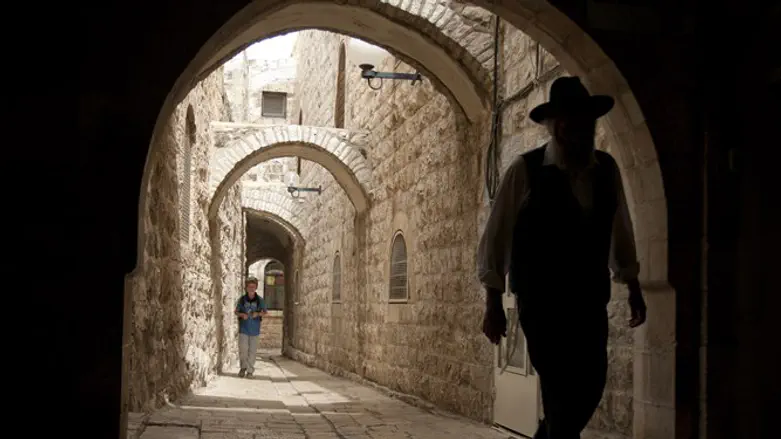 Jewish Quarter
Flash90
The chair of the community council of the Old City in Jerusalem told Arutz Sheva about the enormous suffering caused to residents of the Old City during the month of Elul and the Ten Days of Repentance before Rosh Hashanah and Yom Kippur. During these forty days, "slichot tours," pass through streets of the Old City during all hours of the day and night.
"Slichot" are prayers asking for forgiveness said before dawn during the entire month of Elul by Sephardic Jews. Ashkenazic Jews, however, begin to say slichot on the Saturday night prior to Rosh Hashanah.
Shoshana Selavan, chair of the community council, turned to the Jerusalem municipality and government representatives with a request to enforce the law regarding rest hours. Included in Selavan's request is that the government forbid, "slichot tours" from going through the Jewish Quarter between the hours of 11:00p.m. and 7:00a.m..
"Every night, until 4a.m., there is a carnival atmosphere. High school yeshivas, groups of visitors with microphones and darbukas [Arab drums], restaurants which are open as if it's the middle of the day, projectors, and an absolute ton of noise," described Selavan. "It's ironic that people come to say slichot [ask forgiveness for sins], and they do it through stealing sleep, which [a sin that] has no atonement. People here don't sleep for a month."
Selavan has turned many times to the municipality. "We sat with municipal representatives, and we were told that the restaurants are open so that people have what to eat. [I understand that,] but why do people have to suffer until four in the morning? They can at least turn off all outside lights, so that tehre will be a bit of quiet here, and the inspector can fine those who use musical instruments and amplification devices at night."
Selvan also suggested an alternative route for the nighttime slichot tours: "You can go from Jaffa Gate, through Gan Habonim, up to Har Tzion. From there, you can take the road down to Dung Gate, without disturbing the residents' sleep."
As chair of the community council, Shoshana Selavan has a message for those Jews who visit the Old City during the month of Elul and the Ten Days of Repentance: "This is a residential neighborhood. The residents [of the Old City] have lived here for years, including during wartime and intifadas, when no one wanted to visit. Therefore, we ask that all the visitors please respect us."