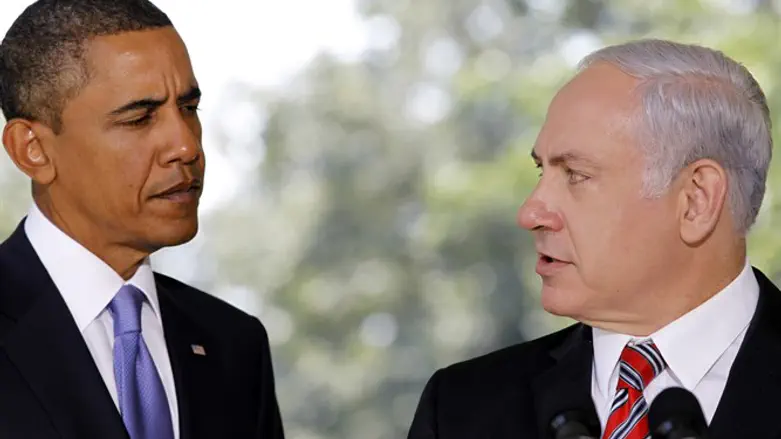 Obama and Netanyahu
Reuters
U.S. President Barack Obama reiterated his country's commitment to Israel in a statement he released after the signing of the defense aid agreement between the countries.
"As I have said repeatedly, America's commitment to Israel's security is unshakeable. Over the past eight years, my Administration has time and again demonstrated this commitment in word and deed," said Obama.
"Since Fiscal Year 2009, the United States has provided Israel with $23.6 billion in Foreign Military Financing (FMF) funds and another $3.4 billion in funding for missile defense. The new 10-year Memorandum of Understanding (MOU) on security assistance that my Administration signed with the Government of Israel today is just the most recent reflection of my steadfast commitment to the security of the State of Israel." he continued.
"The new MOU," Obama stressed, "constitutes the single largest pledge of military assistance in U.S. history, totaling $38 billion over 10 years, including $33 billion in FMF funds and an additional $5 billion in missile defense funding. Both Prime Minister Netanyahu and I are confident that the new MOU will make a significant contribution to Israel's security in what remains a dangerous neighborhood.
"The continued supply of the world's most advanced weapons technology will ensure that Israel has the ability to defend itself from all manner of threats," said the President.
"For as long as the state of Israel has existed, the United States has been Israel's greatest friend and partner, a fact underscored again today. This commitment to Israel's security has been unwavering and is based on a genuine and abiding concern for the welfare of the Israeli people and the future of the State of Israel.
"It is because of this same commitment to Israel and its long-term security that we will also continue to press for a two-state solution to the longstanding Israeli-Palestinian conflict, despite the deeply troubling trends on the ground that undermine this goal. As I have emphasized previously, the only way for Israel to endure and thrive as a Jewish and democratic state is through the realization of an independent and viable Palestine.
"Ultimately, both this MOU and efforts to advance the two-state solution are motivated by the same core U.S. objective that has been shared by all administrations, Democratic and Republican, over the last several decades - ensuring that Israelis can live alongside their neighbors in peace and security," he concluded.
Prime Minister Binyamin Netanyahu earlier addressed the Israeli people and said the agreement was an historic one which would "ensure that an unprecedented amount of military aid be granted to Israel over the next decade."
"This is the largest package of military aide that the U.S. has ever granted to another nation. It will allow us to improve our military capabilities and improve our missile defense system. This is a great achievement for Israel and all Israelis can feel blessed by this," he added.
The Prime Minister thanked those involved saying, "I would like to thank President Obama and his administration for this historic agreement. I would like to thank our friends in the Congress and the entire American nation."