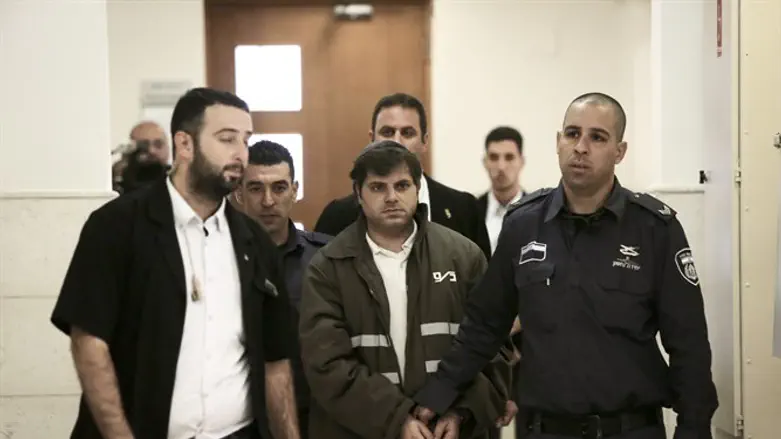 Yosef Chaim Ben David in court
צילום: יונתן סינדל, פלאש 90
The State notified the Supreme Court today that it opposes the demolition of houses owned by those found guilty of the murder of Muhammad Abu-Hadir.
In its response to the petition to the Supreme Court regarding the demolition of the houses of the murderers of Abu Hadir, the State emphasized that there is a difference between Arab terrorists and terror perpetrated by Jews due to the fact that Jewish communities condemn acts of terror.
Hadir's parents had requested that houses owned by Yosef Haim Ben David and the two adolescents that were found guilty of killing their son in the summer of 2014 be demolished.
The response that the state submitted to the Supreme Court stated that it is impossible to equate terror that is committed by Jews to terror that is committed by Arabs.
"Every act of terror is wrong and we must work to prevent it," the statement issued by the State read, "but we cannot ignore the huge discrepancy between the amount of terror attacks that are perpetrated by Palestinians and Arabs from East Jerusalem versus those perpetrated by Jews against Arabs.There is no ignoring the condemnation of terror that emerges from within the Jewish community in Israel."
The State emphasized that, "the Jewish community condemns the use of terror against innocents."
Additionally, the State added that the houses of Abu-Hadir's murderers should not be destroyed as more than two years have passed since the incident. "Too much time has passed," the statement read, "the military cannot issue an order for demolition as per the request."