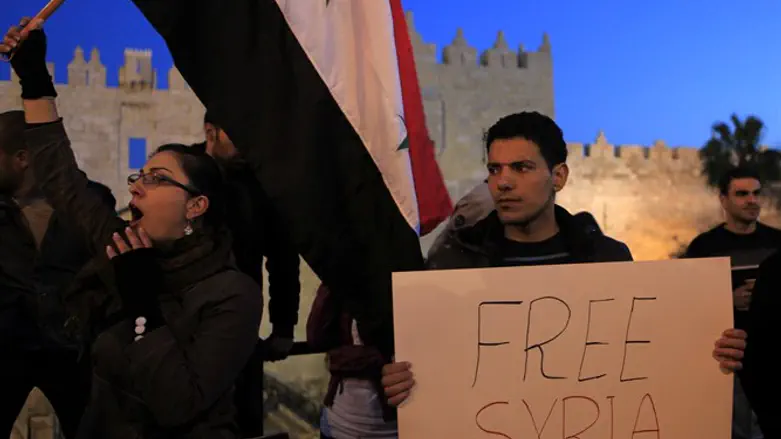 Illustration
Flash90
Dr. Yehuda U. Blanga, historian and orientalist at Bar Ilan University, in an interview with Arutz Sheva, stated that the Syrian ceasefire will not last and only give time for both sides to restock their ammunition and prepare for the next round.
Dr. Blanga emphasized that yesterday was not only the 15th anniversary of the 9/11 terror attacks, but also Bashar Al-Assad's birthday, making the ceasefire an opportunity for Assad to improve his image as a leader who is cooperating with the international community.
This is also a great strategic opportunity for Assad's forces to reload and prepare for when the ceasefire breaks down, which Dr. Blanga hypothesizes will be sooner rather than later. The ceasefire will be of strategic importance for Assad's forces so they can prepare to attack the Christian rebels who live in the Aleppo Region.
Dr. Blanga mentioned the quarter of a million residents living in the Aleppo area, emphasizing that they require humanitarian rest and aid.
Dr. Blanga added that, "the Russians would like Assad to reload and prepare to conquer the Aleppo Region which was the economic center of Syria. Assad's control over this area would solidify and strengthen his leadership."
This ceasefire was also planned so that it would fall on the Muslim holiday of Eid al-Adha. After seven days of cease fire, in the event that it holds, a joint Russian- American organization is to be established in order to collect intelligence on ISIS and the Al-Nusra Front, which has recently broken ties with al Qaeda so as to seem more acceptable.
Blanga added that the intricate dynamics in Syria are such that the rebels who are receiving aid from the United States are not going to fight against the Al-Nusra Front as they, themselves, are working with the organization to fight against Assad.
Blanga theorizes that Obama's legacy won't be written in Syria. This ceasefire and all prior, failed attempts that came as a result of pressure from John Kerry do not indicate a successful foreign policy plan in Syria.
"The Russians forced this ceasefire upon Assad," Dr. Blanga told Arutz Sheva, "He had no interest in saying he wasn't ready. The Russians want to keep Assad in power and secure his leadership."
"Assad's status has really improved in the past six months," he added, "After a long period of struggle, no one expected him to conquer this much land and that he would be the strongest potential opposition to ISIS."