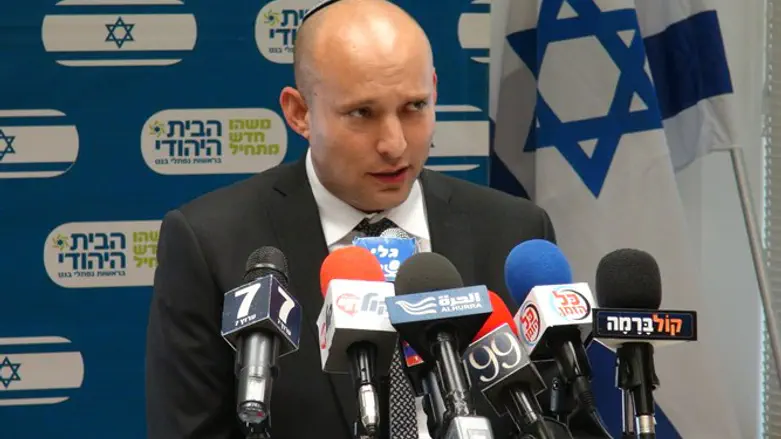 Naftali Bennett
Hezki Baruch
Education Minister Naftali Bennett announced Friday afternoon that he would intervene on behalf of the Shevah Mofet high school in south Tel Aviv and prevent its closure.
The school at the center of the controversy was founded in 1946, and during the early years of the state, primarily served the Mizrachi immigrants living in the area.
By the early 1990s, however, the school had become popular with immigrants from the former Soviet Union. Today, the school is noted for the high level of academic achievement among its graduates and specialization in certain subjects. The school remains popular with immigrants from Eastern Europe, and draws students from across Tel Aviv and even outside of the city.
Recently, Tel Aviv Mayor Ron Huldai supported a move to shut down the school and use the campus for the many illegal immigrant families now living in south Tel Aviv.
The plan drew a firestorm of criticism, with both Prime Minister Binyamin Netanyahu and Defense Minister Avigdor Liberman slamming the proposal. The plan sparked protests by parents, students, teachers, and even a Zionist Union MK who participated in the rallies against the closure.
Liberman, whose Yisrael Beytenu party caters primarily to Eastern European immigrants, called upon the Education Minister to intervene, pointing out the school's scholastic success.
A spokesperson for Netanyahu also highlighted the school's academic performance.
"The Prime Minister supports leaving the school as it is - an excellent school established by former immigrants from the Soviet Union hoping to improve the state of the Israeli educational system in the realm of sciences, mathematics and the arts."
On Friday Bennett responded, pledging to keep the school open as it currently exists.
According to the Education Minister's statement, Bennett spoke with Huldai, and the two ultimately agreed to maintain the status quo at Shevah Mofet.
In place of Huldai's plan to shutter the school and replace it with a new institution for the largely migrant local population, the Education Ministry and Tel Aviv Municipality will cooperate to find an alternative solution to the neighborhood's educational needs.
MK Knesia Svetlova (Zionist Union) praised the decision to keep Shevah Mofet open, saying: "I wrote this week to both the [Education] Minister and Mayor [Huldai]. I protested alongside the parents and students [against the closure] and am so happy our voices have been heard."
"the Education Ministry and Tel Aviv Municipality need to think how they can open new schools, not how to close existing ones, and certainly not a successful school like Shevah Mofet, which takes in immigrants and helps them make great academic achievements and turn them into a part of Israeli society."