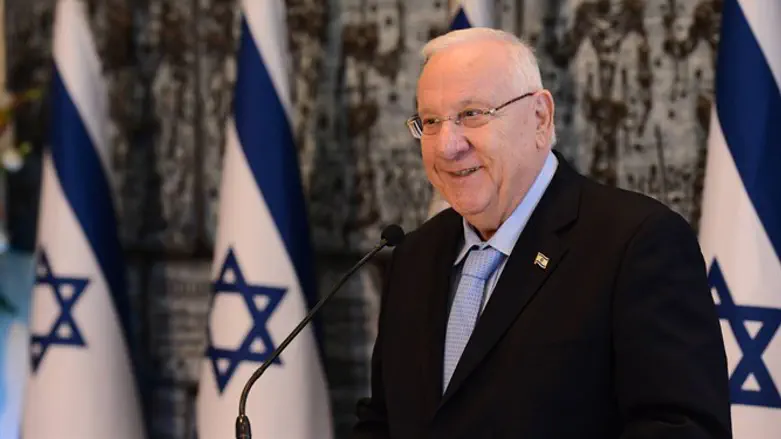 President Reuven Rivlin
Mark Neyman
President Reuven Rivlin on Monday criticized famous rapper Yoav Eliasi, known by the stage name Hatzel.
Eliasi recently announced that he would join the Likud, but was not welcomed by some Likud members due to his past controversial statements and actions.
"I was born into a Likud with light, in which there were no shadows," Rivlin said on Monday, a play on the name Hatzel, which in Hebrew literally means "The Shadow".
"We need to recognize that there is something called incitement," the President continued, according to a report by Walla! News. "Incitement can be directed from either side towards the other side."
The President's remarks, made at an event marking the start of the school year in Israel, came in response to a question from the crowd asking why Eliasi receives a "prize" in the form of being allowed to join the Likud despite inciting.
Eliasi responded to Rivlin's comments later on Monday night, telling Walla! News, "Fortunately for Rivlin I respect the position of president in Israel and I do not feel like opening my mouth right now and badmouthing the president. But our president is trying to fill the very big shoes of Shimon Peres, and show that he is doing and building, and all this at the expense of more than half of the people who don't even view him as their president. His poor politics are very sad."
Even after his announcement that he would join the Likud, Hatzel continued his controversial statements, attacking Likud MK Benny Begin in a radio interview and claiming his daughter converted to Islam.
The Likud party condemned Hatzel's attack on Begin, saying, "There is no place for an attack against MK Benny Begin, a man with many merits and who has contributed greatly to the State of Israel, the people of Israel and the Likud movement."
Begin himself attacked Eliasi over the comments, calling him a "nationalistic thug" and saying he had no place in the Likud.
And Likud Minister Tzachi Hanegbi wrote a letter to Likud CEO Gadi Arieli demanding that Hatzel not be allowed to join the party.
"Hatzel disrespects the Likud, makes fun of it and demeans it, and wants to impose his views on the movement by hostile takeover. Accepting his request to be admitted as a member of the party will cause the Likud great public damage," explained Minister Hanegbi in the letter.