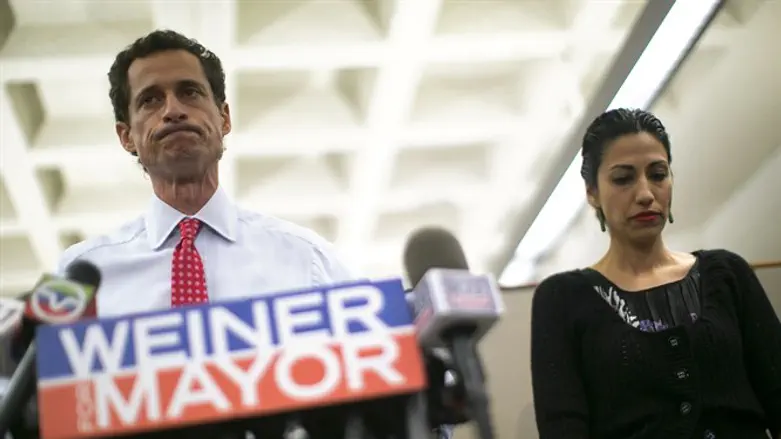 Anthony Weiner and Huma Abedin
Reuters
Longtime Hillary Clinton aide Huma Abedin announced Monday that she and former U.S. Rep. Anthony Weiner are separating, after new reports surfaced that he sent sexually suggestive photos again.
Weiner, who had represented New York's 9th District in the U.S. House of Representatives, was forced to resign in 2011 after it was revealed he had maintained online sexual relationships with at least six women.
In 2013, Weiner attempted to reboot his career, entering the New York City mayoral election. In the midst of the Democratic primary, however, Weiner's campaign was undermined by a second sexting scandal.
A young woman involved in the online romance revealed photographs Weiner had sent, and disclosed his online alias – "Carlos Danger".
Last week, it was reported that Weiner once again was embroiled in a sexting scandal, after someone posing as a female college student chatted online with the former congressman, even receiving his private phone number.
"After long and painful consideration and work on my marriage, I have made the decision to separate from my husband. Anthony and I remain devoted to doing what is best for our son, who is the light of our life. During this difficult time, I ask for respect for our privacy," Abedin said in a statement Monday quoted by CNN.
Abedin was "furious and sickened" by the picture of Weiner and their 4-year-old son, Jordan, according to two people close to the family. The sources said she did not know about it or details of the latest sexting exchange until this weekend.
Weiner deleted his Twitter account after the latest report surfaced, noted CNN.
A Donald Trump supporter told the New York Post that the two of them exchanged racy photos over the course of about a year.
Abedin and Weiner had been distant and "heading on a path apart" for a few months, but she was reluctant to leave, according to two sources close to the family.
Weiner was with her and Jordan this weekend in the Hamptons, but left Monday morning. Abedin spoke with several close friends Sunday night and early Monday morning before deciding to announce a separation.
Abedin, who is Clinton's closest adviser, has herself been a subject of scrutiny after it was recently revealed that she worked for more than a decade at a stridently Islamist journal which opposed women's rights and blamed the United States for the 9/11 terror attacks.
Questions have also arisen about whether she helped Clinton Foundation donors gain special access, after a spate of new email releases.
Meanwhile, the Republican presidential nominee weighed in on the Weiner-Abedin separation on Monday, saying Abedin made a "wise decision," but said Weiner's proximity to Clinton could possibly have compromised classified information.
"I only worry for the country in that Hillary Clinton was careless and negligent in allowing Weiner to have such close proximity to highly classified information," Trump said in a statement quoted by CNN.
"Who knows what he learned and who he told? It's just another example of Hillary Clinton's bad judgment," he continued.
A pair of news outlets, NY1 and The New York Daily News, both suspended or moved to cut ties with Weiner Monday.
"Anthony Weiner is on indefinite leave from the station," a NY1 spokesman told CNN. Weiner was a frequent guest on the New York news channel's "Inside City Hall" program.
The New York Daily News said it would no longer run his columns.