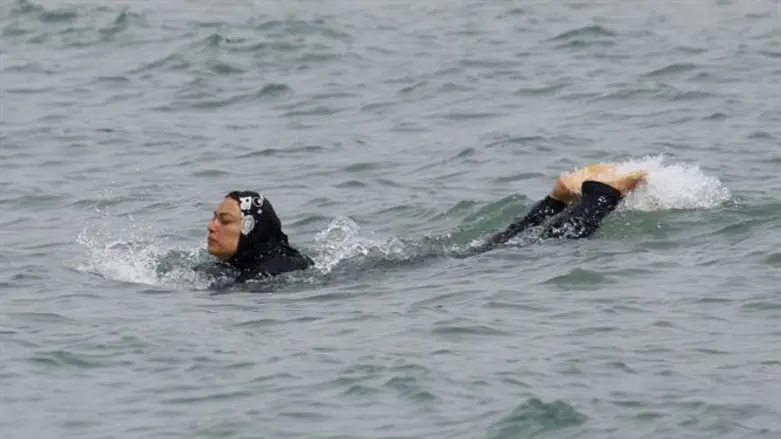 Burkini
Reuters
In his first public statement about France's debate over the burkini, the leader of the country's Jewish communities condemned a politician's likening of the ban on the Muslim garb to persecutions against French Jews.
Francis Kalifat, president of the CRIF umbrella group of French Jewish communities, commented on the issue in a statement published on CRIF's website last Friday, two weeks after the first of some 30 French municipalities passed bans on wearing the full-body swimsuit. Also last Friday, a French high court ruled that the bans were illegal.
In his statement, Kalifat condemned tweets by Jean-Luc Melenchon, leader of the Left Party, who has said that in France, "Jews were persecuted, then Protestants, and today Muslims."
Kalifat called Melonchon's allusion to the Holocaust, where a quarter of French Jewry was murdered by the Nazis and their local collaborators, "a pinnacle of absurdity and indecency" that Kalifat said was meant to "pander to Melenchon's voters."
He called on political figures to condemns Melenchon's remarks.
"This relativism, and attempt to draw parallels is unacceptable and must be condemned," Kalifat wrote. "It is revolting and infuriating that some should try to profit politically from the polemic around anti-bikini bans and the Shoah," he wrote, using the Hebrew word for the Holocaust.
Kalifat's statement contained no direct reference to the ban itself, which critics have said is discriminatory to Muslims and constitutes an infringement on individual liberties. The CRIF has remained uncharacteristically silent on the divisive issue.
French Prime Minister Manuel Valls defended the bans as designed to counter "a political project … designed to perpetuate female servitude."
Some of the ban's critics warned it could lead to further curtailing of religious freedoms, including those of Orthodox Jewish women, who, like many Muslim counterparts, consider themselves obligated to cover their bodies almost completely to comply with religious laws on modesty.
The Board of Deputies of British Jews complained last week about reports of "harassment" of Muslim swimmers in Nice by police implementing the ban. It was an unusual move for the board, which rarely comments on foreign issues without consulting the local Jewish leaders.
A senior French rabbi, Moshe Sebbag of the Grand Synagogue of Paris, acknowledged in an interview with JTA last week the reluctance of other French Jewish leaders to speak out on the issue.
"It's a complicated subject and both sides have compelling arguments," Sebbag said, adding that the French state is a "secular country with freedom of religion."
But Sebbag ultimately defended the bans, whose supporters, he said, "understand today there's a religious war, a takeover of the secular establishment of the French republic, and this is what they find unacceptable."
Asked if he agrees with the burkini bans, he said: "Yes, because you see that going with it [a burkini] is not innocent, it's sending a message."
According to French authorities, French Islamists have killed 12 people since 2012 in attacks on Jewish targets in France and Belgium. A majority of about 200 violent anti-Semitic assaults that are recorded in France annually are perpetrated by people hailing from Muslim families, according to the National Bureau for Vigilance Against Anti-Semitism.