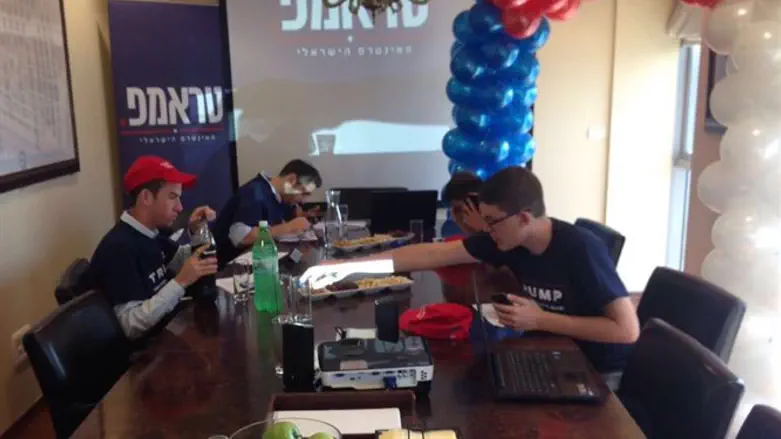 Trump campaign office in Israel
GOP in Israel spokesperson
The Republican Party in Israel opened the first office of an American political party in the Tel Aviv metropolitan area Wednesday night.
Part of a broader effort to court voters with dual Israeli-American citizenship, over the past two weeks the Trump campaign has expanded its operation in Israel, micro-targeting registered voters living in Israel who are eligible to vote in swing states like Florida, Ohio, Pennsylvania, Nevada, and Virginia.
The newest Trump campaign office was opened in the city of Ramat Gan, east of Tel Aviv, in a tower near the Ramat Gan diamond district.
The office, which will service the Gush Dan and Sharon regions, will be used for get out the vote operations and a campaign call center, work by campaign volunteers, and will act as a base of operations for the Israeli campaign's leadership team.
Trump's Israel operation already has offices in Jerusalem and Modiin, with a fourth location to be opened over the Green Line in Samaria.
Planned to serve as the center of operations in Judea and Samaria, the Samaria office will focus on mobilizing voters living over the Green Line. A recent study by Sara Yael Hirschhorn suggests as much as 15% of Jews in Judea and Samaria are Americans – or more than 60,000 people.
Chairman of the GOP's Israel branch Marc Zell noted the Trump campaign's strong ground game in Israel.
"Our workers and volunteers are working around the clock to respond to voters who turn to us. The response has been tremendous, and voters believe Trump will be the best candidate for Israel".
Tzvika Brot, director of the Trump campaign's operations in Israel, said the campaign was planning to expand its work in Israel further.
"The ultimate goal is to get to five campaign branches operating across the country. We will assistance to anyone requesting help in registering to vote ahead of the elections, and we will reach as many voters as possible, especially younger voters, to remind them that unless you register now, you will be unable to participate in the election this November."