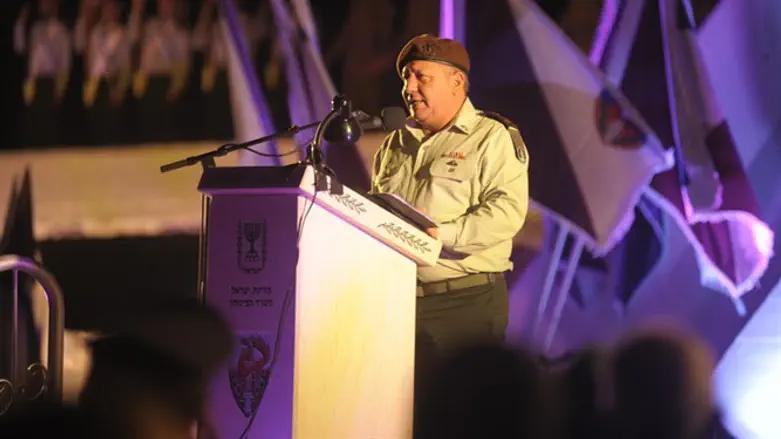 Chief of Staff Gadi Eizenkott
IDF spokesman unit
In the wake of tensions in the IDF between the army establishment and the rabbinic-religious community, Chief of Staff Lt.-Gen. Gadi Eisenkot met today with an IDF Rabbinate delegation to air out the issues.
Eisenkot acknowledged that it was at his initiative that the IDF's Jewish Awareness department was transferred from the IDF Rabbinate to the IDF Education Corps. He further admitted that a measure of extreme anti-religiosity has made inroads in the manner in which religious issues are handled.
Just two days ago it was reported that some 50 religious cadets in the Engineering Corps were not allowed to go home for the Sabbath until they shaved their beards. Soldiers with particularly thick beards were exempted from the orders. Eisenkott told the rabbis that religious soldiers need not be forced to shave, and that he would "take of the matter" strictly.
The rabbinic delegation was comprised of rabbis from both the standing army and the reserves.
The Chief of Staff said he transferred the Jewish Awareness department because it had displayed "extreme" religious views that did not reflect the general army population. In response to the rabbis' claims that the pendulum had now swung to the other side, Eisenkott agreed, and said that in general, all extremism should be shunned in order to keep the IDF in the consensus.
A new organization called "Tzav Echad" was established this month, providing an address for soldiers who are suffering religious discrimination.