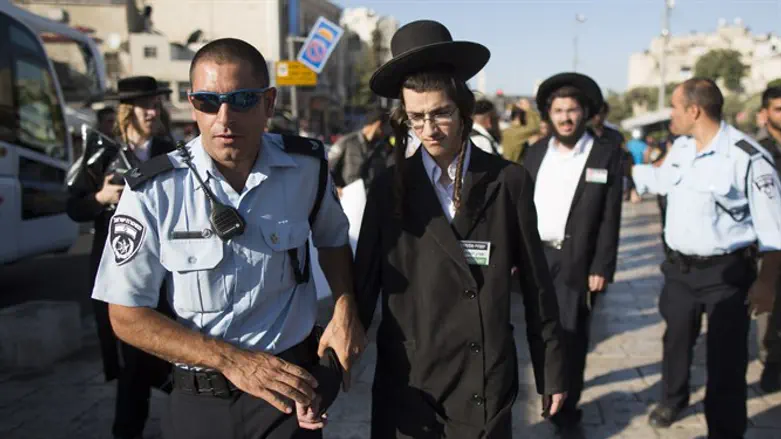 Israel Police and haredim
Yonatan Sindel/Flash 90
Hundreds of haredim are protesting, burning dumpsters, and throwing stones at police in Kikar Hashabbat, Jerusalem, after security forces arrested a haredi youth for dodging his draft into the IDF.
Israel police report dozens of arrests in the area.
Hundreds more people are protesting in Beit Shemesh, a city near Jerusalem, and are "disturbing the peace" over the matter.
The haredi draft has been a hot-button issue for years, as politicians such as Yesh Atid leader Yair Lapid try to include them in Israel's mandatory military draft, while their own leaders reject change to the status quo.
From the beginning of the state until the cancellation of the Tal Law, haredim have been exempt from the draft, on grounds that they serve better as religious and civilian support.
Despite not being drafted, haredim are still able to serve in the IDF if they choose to leave yeshiva.
Recent efforts on behalf of the IDF to integrate haredim have been partially successful. Although culturally enclosed units have been created for haredim in several IDF units, haredi politicians complain that haredi scholars are still too exposed and unready when they enter the military.
Chabad hassidim recently signed their own draft agreement with the IDF, which made waves in the haredi world as "against the Lubavitcher Rebbe's [Chabad leader's] wishes."