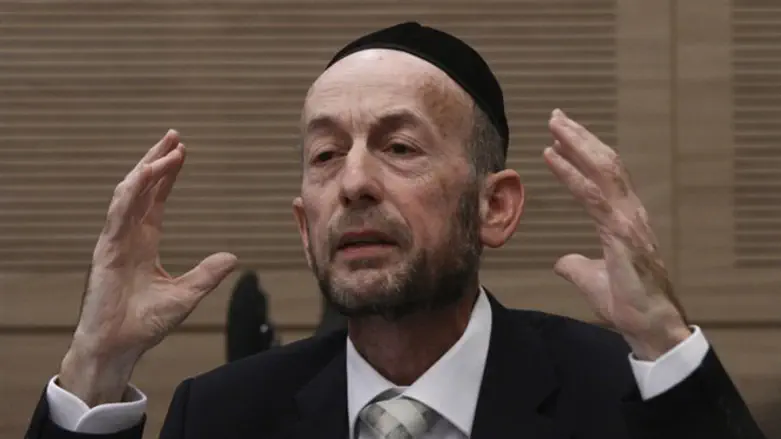 MK Uri Maklev
Flash 90
The Knesset Committee on the Status of Women and Gender Equality held a discussion yesterday regarding employment conditions under Treasury Ministry regulations for workers in childcare centers, a matter brought up to the daily agenda by MK Uri Maklev (UTJ).
Attorney Ruth Dayan from the Local Government Center informed the Committee that agreements between the Treasury Ministry and other local authorities to enable the transfer of funds to the childcare centers have not yet come to a close and still need final approval - this, two weeks before the opening of the new school year.
Galit Yakobov, Manager for the Daycare and Childcare Branches, told the Committee that the agreements have not yet come to a close because there is disagreement between the Treasury Ministry and the Welfare Ministry regarding whose authority it is to approve the funds.
Even so, Yakobov said that "There is more to the process after this, but there is a chance to convene before the opening of the new school year. We expect this as an emergency measure, and the vacation time of our workers has been cancelled so as to ensure that there won't be delays on our part once the issue is resolved."
In the suggestions to the daily agenda, it was noted that "3,700 childcare professionals, working under the auspices of the Treasury Ministry, work at a rate below minimum wage without basic social benefits.
"We're talking about a serious blow to workers' rights; the daycare professionals don't have worker's compensation or pension benefits. Their wages don't include pension savings, unemployment insurance, allotments for worker's compensation, overtime pay, payment for preparation of the daycare, and more. Vacation days don't include sick days, days for mourning, and more," it was written.
MK Maklev said that "It's unfair to demand that a worker give her all when she has to deal with such sub-par conditions. If we heard of a private enterprise that demands so much from its workers in exchange for so few benefits, we would be outraged - how much more so, then, when we are talking about the Government."