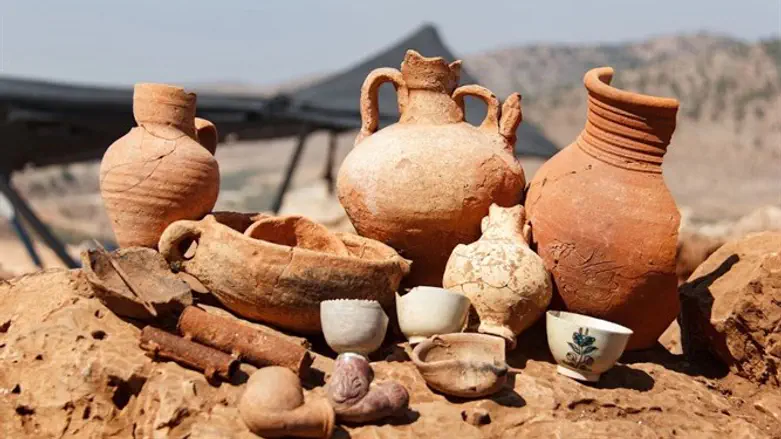 Some of the findings of the excavation
Photo: Civil Administration spokesperson
The archeological unit of the Civil Administration unearthed an eighteenth-century Ottoman village in the context of developmental work in the modern town of Beitar Illit south of Jerusalem.
The finding is considered significant from an archaeological standpoint, considering that the unearthing of settlements from this time period is uncommon due to the formerly standard practice of building new villages upon the ruins of old ones.
During the excavations, archaeologists discovered tools suggesting that the site was abandoned suddenly. The assessment is that a fire or earthquake led to the former residents' abandonment of the site.
In addition, tools discovered, such as bowls, jugs, coffee cups and other cooking implements point to a simple lifestyle among former inhabitants. Archaeologists do not think that the site held any "sacred" significance.
Housing units were also discovered, attached to each other in such a way as to create one conglomerated unit - which indicates that a large extended family probably lived in the village.
Questions arise as to the identity of the family and its occupation; archaeologists hope to get to the bottom of these questions as the excavation progresses.
The archaeologists place great importance on excavation and preservation at the site due to its uniqueness for its period. The excavations allow a glimpse into village life of the period and area, life which seems dominated by cooperation and community.
The Officer of Archaeology in the Civil Administration, Hananya Hizmi, commented that "the most interesting thing that we found in the course of excavations was the way the settlement and all its tools were so well preserved, something which indicates that the village was abandoned suddenly.
"We don't know the exact circumstances under which the site was abandoned, because we also found signs of fire at the site, and we will continue to excavate at the site, which, I believe, will give us further information about the nature of the residents of the area and the time period. To my satisfaction, recent archaeological excavations that we have pursued in Judea and Samaria have given us additional details which point to the extensive history that exists in Judea and Samaria," Hizmi added.