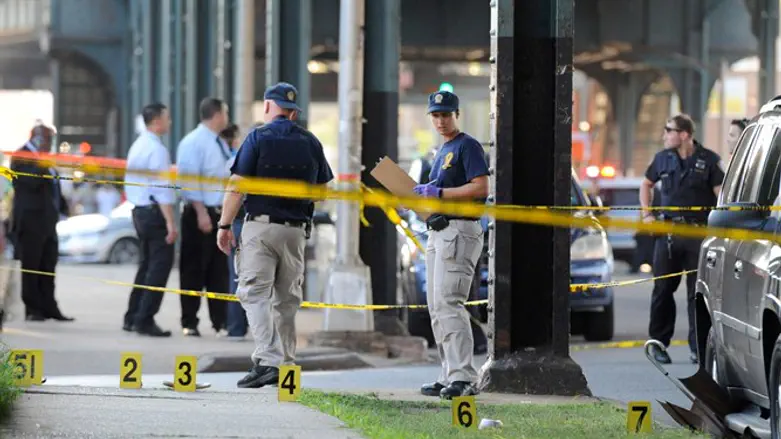 Scene of Queens shooting
Reuters
Bangladeshi Muslims in Queens said on Sunday that the killing a day earlier of an imam and his close friend was an anti-Muslim hate crime, but local police said there is no evidence so far to support that, The Associated Press reports.
Police hunted for the gunman who killed Imam Maulama Akonjee, 55, and Thara Uddin, 64, near the Al-Furqan Jame Masjid mosque in Queens as they left afternoon prayers Saturday in their traditional religious attire.
Both men were shot in the head by the gunman, who reportedly did not say a word as he carried out the act.
"This was a hate crime. One hundred percent, there's no doubt about it," said Monir Chowdhury, who worshipped daily with the two men, according to AP.
He said he had moved to the community because of its large Bangladeshi immigrant population, but in recent months has been harassed by people shouting anti-Muslim epithets.
In one incident, said Chowdhury, a man called him "Osama" as he walked to the mosque with his 3-year-old son. With the killer still on the loose, Chowdhury decided it would be best to drive to prayer services.
"A lot of neighbors said, 'Hey, don't take your kid with you,'" he said. "People, they just hate us."
Meanwhile, police released a sketch early Sunday of a dark-haired, bearded man wearing glasses. Police said witnesses described the shooter as a man with a medium complexion.
But despite the claims from locals that the incident was a hate crime, investigators said they have not established a motive in the attack.
On Saturday, Deputy Inspector Henry Sautner said there was "nothing in the preliminary investigation to indicate that they were targeted because of their faith." Akonjee was carrying about $1,000 in cash that was not taken during the shooting, police said. Akonjee's son said it wasn't uncommon for his father to carry that amount of money.
Chowdhury said he has felt the mood in the neighborhood change drastically in the last few months and accused Republican presidential nominee Donald Trump of spreading anti-Muslim rhetoric.
"This neighborhood is getting crazy because of this election and Trump. He hates Muslims," he said. "I love this neighborhood and now I'm scared."
Trump's campaign replied by saying in a statement that it was "highly irresponsible" to blame a political candidate for the violent attacks.