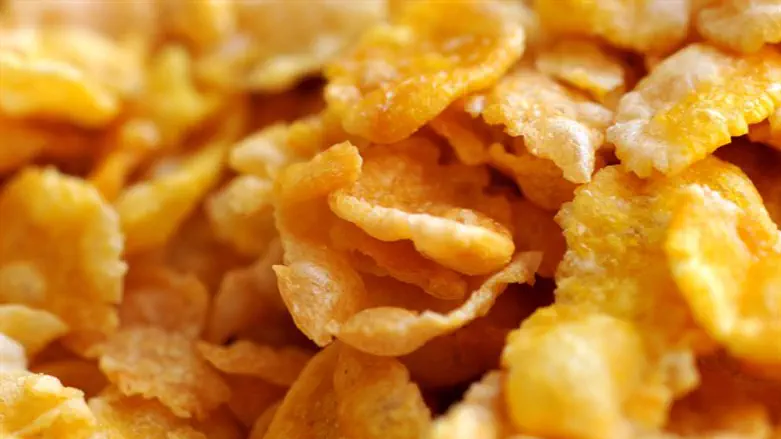 פתיתי קורנפלקס. אילוסטרציה
צילום: Sophie Gordon / Flash 90
The private investigation company Weitzman Yaar, which was hired by the Unilever company responsible for Telma cornflakes manufacture in conjunction with the health ministry, has submitted its report of the investigation into the distribution of Salmonella infected cornflakes.
The report addresses the question of how 240 boxes of contaminated cornflakes could have been distributed to sales companies. According to the report, one of the workers mistakenly released the contaminated consignment for sale, as the company had claimed originally.
Apparently the worker had mistakenly switched the barcode with the barcode on another consignment which enabled it to be released for distribution.
From the investigation it became apparent that the contaminated consignment which had a status of 'precluded' meaning that it could not be distributed, entered the storeroom with a mistaken UPI sticker which did not have a 'precluded' status.
The report said that "According to investigations and reconstruction of events it is clear that only members of the 'Logisticker' company which manages and supervises the storeroom activity could have done this. The most likely scenario is that a worker whose personal details are known to us was responsible for mistakenly designating the consignment for sale before it was distributed to Supersol, since his personal details appear under a code which is only known to him."
"From our investigation of the SAP operations which trace the movements of the consignments, we can see that the infected consignment did not leave the storeroom and was classified as precluded from distribution and only a sticker from another consignment enabled it to be distributed."
"The contaminated consignment was stored in the storerooms of Logisticker, an independent company which provides various services for Unilever. It should be emphasized that at a certain point in the investigation the director of Logisticker told the storeroom workers to stop cooperating with the investigation and not to agree to be tested by polygraph."