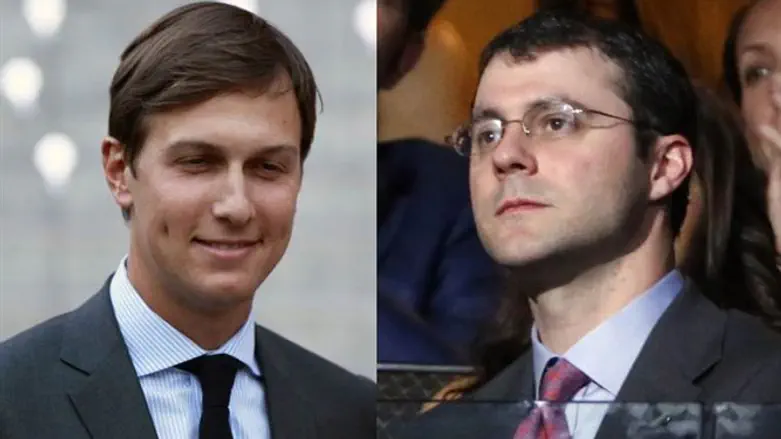 Kushner (r) and Mezvinsky
Reuters
No matter who wins in November, the First Son-in-Law of the United States (FSILOTUS) will be a Jew. The only question is will he be Orthodox or Conservative?
Ivanka Trump's husband, Jared Kushner, 35, is principal owner of the real estate holding and development company Kushner Properties, and the newspaper publishing company the New York Observer. He is the eldest son of Seryl (born Stadtmauer) and real estate developer Charles Kushner. He has a brother, Joshua, who is also a businessman, and two sisters, Nicole and Dara.
In 2007, at the age of 26, he made what was the most expensive single-building property purchase in US history, when he bought 666 Fifth Avenue for $1.8 billion.
Kushner was raised Orthodox in New Jersey.
Chelsea Clinton's husband, Marc Mezvinsky, is the son of former Democratic members of Congress Marjorie Margolies-Mezvinsky (PA) and Edward Mezvinsky (Iowa), and was raised in the Conservative Jewish tradition.
He worked for eight years as an investment banker at Goldman Sachs and in 2011, co-founded a Manhattan-based hedge fund with two partners.
He and Chelsea met as children when the Clintons and Mezvinskys were on a Renaissance Weekend retreat in Hilton Head Island, South Carolina. They first were reported to be a couple in 2005, and were married in an interfaith ceremony in Rhinebeck, New York, in 2010.
Clinton and Mezvinsky have a daughter, Charlotte, who is almost 2 years old, and a son, Aidan, who was born in June.
Some have noticed that the abbreviated title FSILOTUS is reminiscent of the Yiddish term "aftselachis," which means "to do something just for spite". What this means in cosmic and karmatic terms is not yet clear, but it must mean something.