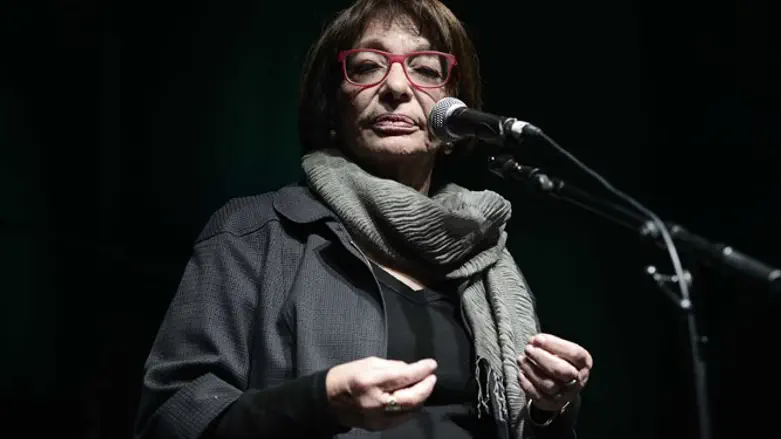 Rivka Michaeli
Photo by Tomer Neuberg/Flash90
Long-time distinguished actress Rivka Michaeli told Haaretz newspaper about her visit to the Judean town of Otniel during the week of mourning for Rabbi Michael Mark, murdered in a terror attack on route 60. Mark was a second cousin of Michaeli's.
Michaeli is a member of the Public Council of the extreme-left organization "B'Tselem", and is certainly not known for supporting the Jewish residence in Judea and Samaria.
She said she didn't know Rabbi Mark as a child, but she had a strong connection with his mother and her sister. The journey to Otniel to pay a condolence visit to the ten children of the Mark family raised mixed emotions and great pain within her, Michaeli said.
"I decided, that I'm going to Otniel. I gathered my brother and cousin and we drove along route 60, bringing on hitch-hikers as we went along, " she recounted. "We gave people rides on the way there and back because we felled we need to be kind. The area is beautiful, beautiful, beautiful.
"The family was somewhat surprised when they saw me and I explained that I was a relative. You think I can tell you that my heart wasn't broken when I saw the orphans, the wonderful children, and heard the stories about this amazing cousin of mine?
"The children said to me: 'If we knew that you were able to come here, we'd want you to come while Dad was still alive. You would have made him the happiest man alive.' It just tears me apart. On the one hand you take these children, and the hitch-hikers, but one the other hand I think we just have to stop this occupation. You also see the awful checkpoints at the entrances to all the Arab villages that were under curfew."
Michaeli paying a condolence visit to the Mark family in Otniel
Photo: PR
The 78-year-old Michaeli expressed her pain over the situation of the Arab residents of Judea and Samaria. "It's so tragic, it really need to be solved urgently, because whatever ends up happening, you can't live with 50 years of occupation and you can't not call it occupation. It's occupation! When people are deprived of rights... that's what you call it, and there's no other word for it.
"If they decide on a bi-national state they should take this all into account. I can understand my relatives' love for that place, that town up on the hill there, Otniel. I see the dozens of children and the mothers, and they touch my heart. That's me.
The famous actress continued to expound on her views of the matter. "If you think this is land that we have the right to live in, give those who live side-by-side with you equal rights! The state of Israel should declare that it's the state of Israel, give everyone identity cards, with everyone having the right to vote or be elected without discrimination based on religion."
Michaeli was then asked if she thought that the reluctance to resolve the situation stems from cowardice. She answered: "It comes from a degraded sense of morality, from closing our eyes, from not calling a spade a spade. What is it if not occupation? I said that in some lunch party with all these very respectable people, and someone asked me: 'Why do you say occupation? You're offending half the nation.' "
She emphasized that murder is murder, in the Jewish sector and in the Arab sector. "All murder is murder. I had the same reaction to the burning of the Dawabsha family in Duma. When I see these things, I want to rend my garments and put ashes on my head."
Some weeks ago Michaeli was named as one of the "Shtulim" - "moles" or "implants", in a campaign by the right-wing Im Tirzu organization, which was aimed at exposing people who are working against Israel "from within".
In reaction to that the actress said: "I'm not bothered by the shaming. I'm a 78-year-old woman. Say whatever you want about me. My fear is for the culture in general. Not for my own honor as a flesh and blood person, but for the higher culture."