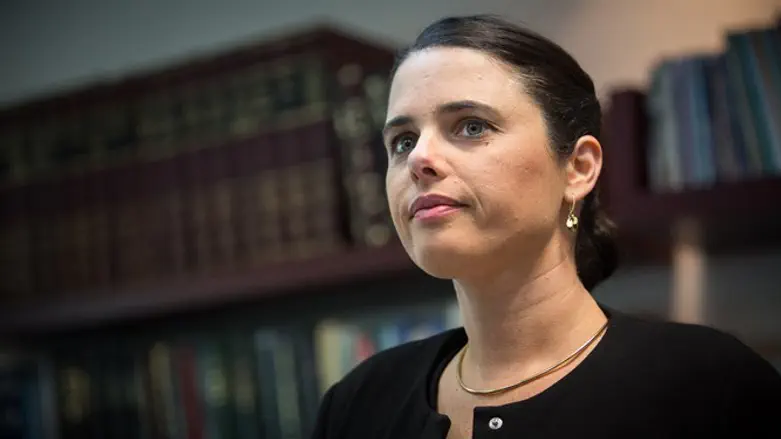 Justice Minister Ayelet Shaked
Yonatan Sindel/Flash90
In an interview with radio station Kol Hai,Justice Minister Ayelet Shaked (Jewish Home) clarified her remarks where she said that haredim should become journalists.
"There is one thing which this government agrees on, which is that the media of the state of israel, especially the Israel Broadcasting Corporation, needs to represent all populations of Israel: Right, Left, religious, secular, Jews and Arabs, new immigrants - every one of them needs to be part of the public media.
Shaked commented on the debate two days ago, on whether to push off the opening date of the new Israel Broadcasting Corporation, which will replace the ailing public institution, the Israel Broadcasting Authority.
"We had a discussion in the government about the fact that there are not enough haredim in the corporation. By the way, [Shas party leader] Aryeh Deri said that he will give a prize to anyone who can give him one name of a haredi in the general media. Immediately I said - Michael Shemesh of Army Radio. But that's really not enough."
Two days ago, in front of the Knesset plenum, Shaked read a 1981 speech of the late Uri Orbach, called "The Best of the Media." Today, Shaked explained, "I decided to use the time I had in front of the general assembly to read a piece which created a revolution. Uri Orbach...turns to the students in Religious Zionist high schools and says to them 'come to the media, it's a very important...matter.'"
"I believe in the integration of haredim into Israeli society, into the IDF, and into the work force...Their integration into the media would greatly help their integration into the Israeli populace, and into every professional and public sector...if there would be more haredim in the media, there would be more haredim in the public and private sectors."
Shaked also touched on the strained relations between the Jewish Home party and the ruling Likud party: "The Prime Minister [Binyamin Netanyahu] has been putting out statements against Jewish Home - through the Likud - for a week and a half already. We decided to put an end to this.
"We are definitely not the darlings of Yediot Aharonot [as per Likud accusations], and on the other hand, if you open up a Yisrael Hayom, you will see blatant incitement against the Jewish Home."
(Yisrael Hayom prints generally right-wing views, although it bears the nickname "Bibiton," for being supportive of Prime Minister Binyamin "Bibi" Netanyahu.)
She emphasized her opinion that the mudslinging statements of the past week and a half have been "excessive."
"It would be better for the ministers to just busy themselves with their portfolios. The Prime Minister also has many things on his mind, so these statements are simply excessive.
"It would be better for us to busy ourselves with doing things, instead of sending out statements. Come, let's work on material matters, and not [slander] matters."