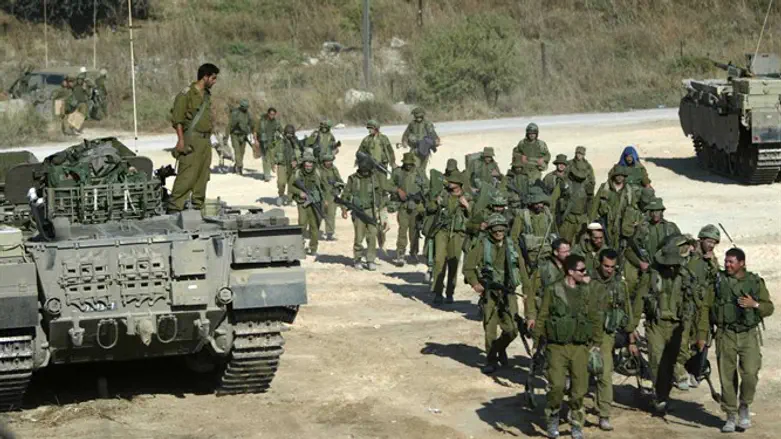 Second Lebanon War
Photo by Pierre Terdjman / Flash90
In a chain of cloak-and-dagger moves, terror organization Hezbollah managed to "interview" ex-Defense Minister Amir Peretz, MK Tzipi Livni, Major General (Reserves) Eyal Ben-Reuven, and Tomer Weinberg, who was wounded while patrolling with captured soldiers Eldad Regev and Ehud Goldwasser. The interviews were aired Saturday night on Hezbollah's news channel, Al-Mayadeen.
In 2006, two IDF Humvees were patrolling the Lebanon border when Hezbollah launched a barrage of Katuhusha rockets at nearby Israeli towns. Terrorists then raided the Humvees, killing three soldiers and capturing Goldwasser and Regev, who later died in captivity. The attack sparked the Second Lebanon War.
Weinberg, who was wounded in the attack, told Yediot Aharonot that "in February, I was approached by an Italian journalist, Mikla Moni, who explained that he is gathering materials for a broad-based article on the event of the capture."
In the first chapter of three, which was aired Saturday night, Weinberg revealed the terror of the moments of the attack: "As soon as the shooting started, I understood that it was coming from the direction of Hezbollah, I opened the door of the Hummer, I didn't look at my friends who sat on the back bench, and I fled."
A Hezbollah terrorist explains in the documentary that "We saw the soldier who was wounded and managed to escape, but capturing him was not planned in the operation directives, so we didn't take him."
General (Reserves) Amos Yadlin claims that he was not interviewed by Al-Mayadeen; rather, he says, they took clips from an interview of his on Israeli television.
Weinberg explained yesterday how he thinks the journalists "cooked up" the interviews with the Israelis: "In February, Mikla Moni emailed me, and presented himself as a journalist for the Italian news agency Ansa, in Rome. He asked to interview me about the capture.
"I pushed him off several times, and I explained that going over the event is likely to worsen my mental and physical state.The Italian journalist persisted, and in the end, I agreed to be interviewed. When he came to my house, he explained that he was staying in Jerusalem, and came specially 'because the Italian people are very interested to hear this story, and it is important that the Italians learn the details of the capture.'
"The Italian journalist explained that his producer is insistent that I be recorded [for] the video, and promised me $2,000 in his name. I immediately refused him, and I said there was no chance," Weinberg recalls.
Weinberg hasn't seen Hezbollah's video, "My friends are 'shaming' me because after everything I told the Italian journalist, they aired only a paragraph which makes it sound like I ran from the car and abandoned my friends. All of a sudden, my memories from the incident flooded me, and I went into a panic. Since the documentary was aired, I haven't gone to work," he explained.
Tzipi Livni (Zionist Union) and Amir Peretz also admitted that they had been scammed. They had each been told that they were being interviewed for the British BBC and Italian TV, and they weren't informed that the film would be passed on to Hezbollah.
The Italian journalist, Mikla Moni, defended himself, saying "I also didn't know that the interviews, for which I was sent to Israel, would end up with Hezbollah."
"Ahmed Barghouti, the producer who paid me in Jerusalem, told me that he is preparing interviews for the BBC and for Al-Jazeera. I work a lot with this producer, and I took on the project.
Moni rejected the claims that he had presented himself as an Italian journalist, "When I discovered the Hezbollah channel aired the interviews, and not the BBC or Al-Jazeera, I understood that they had set me up, and I seemed like a liar to the interviewees. I am afraid of losing my work," explained Moni.
"I am a professional journalist. I have no connection with Al-Mayadeen channel, nor Hezbollah, and I don't want to be in touch with them. Tomer Weinberg is a wonderful guy, and I feel like I have sorely mistreated him. I went in a high temper to the producer Barghouti, and he said that he has no idea how the interviews got on the Al-Mayadeen channel. "
Italian news agency Ansa says that, although Moni works with them, "we did not send Moni to conduct interviews on the incident of the capture of IDF soldiers, and the interviews were not aired by us."
General (Reserves) Eyal Ben-Reuven told Yediot Aharonot that "this is a severe act, and I am considering taking legal action against the Italian journalist. Obviously, if I had known that the interview would by aired on Hezbollah's channel, I would not have interviewed. Someone has hoodwinked us."