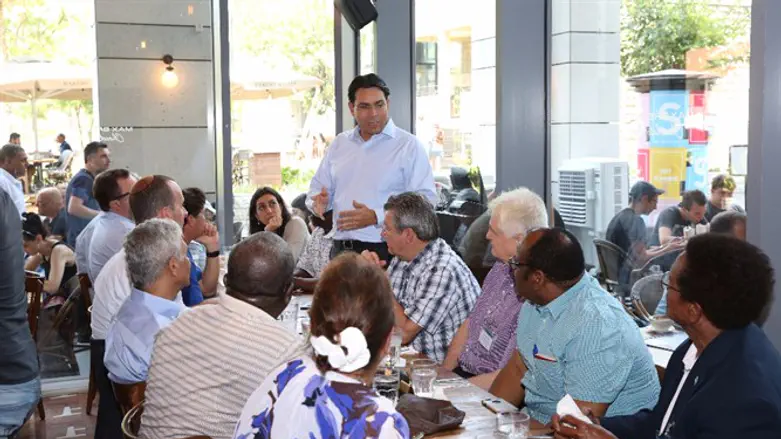 Ambassador Danon and members of the delegation visit the Sarona Market.
Photo: Tomer Shalom
Israel's Ambassador to the United Nations Danny Danon and a delegation of eleven UN ambassadors from around the world visited the Max Brenner restaurant in the Sarona Market in Tel Aviv, the site of a terror attack this past June in which four people were murdered. The visit was meant to show the ambassadors firsthand the types of targets chosen by Palestinian terrorists and to portray how Israelis cope with such attacks.
The ambassadors ate lunch at the restaurant and were briefed on the attack and its aftermath.
"After they saw firsthand how the despicable terrorists turned a site of recreation and leisure into a scene of bloodshed, we explained to the ambassadors that there is no difference between terror in Tel Aviv or in Paris," explained Israel's Ambassador to the UN Danny Danon. "The visit by this delegation to Israel, and to the site of this attack in particular, shows that Israel has many friends around the world who understand the challenges we face and who also wish to improve our bilateral relations," Ambassador Danon continued.
The delegation of ambassadors visiting Israel this week was organized by the American Jewish Committee's Project Interchange in coordination with the Israeli Mission to the UN. They will receive briefings on the region's security challenges and learn about Israeli culture, entrepreneurship and lifestyles.