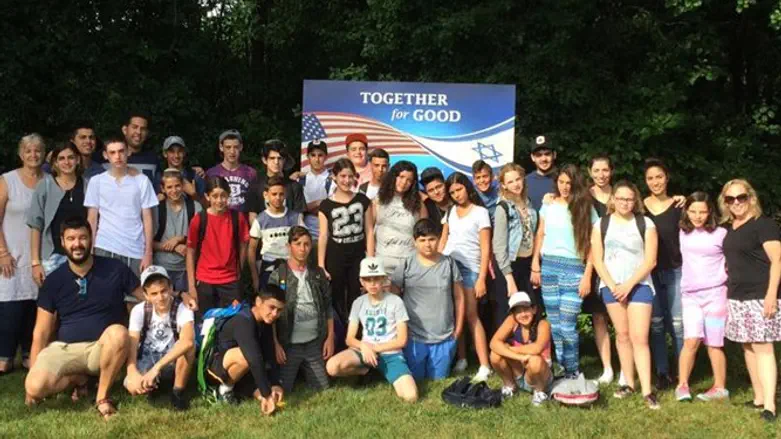 IDFWO in Chicago
IDFWO
The IDF Widows and Orphans Organization (IDFWO), has taken 25 teenagers on their coming-of-age trip - since their parents can't go with them. Some of them were orphaned when they were toddlers; others lost a parent in the 2014 Operation Protective Edge.
THe IDFWO is the official organization for families of Israel's fallen soldiers. All the participants recently celebrated their Bar or Bat Mitzvahs together, in a mass ceremony in Jerusalem, attended by President Reuven Rivlin.
After the Bar/Bat Mitzvah, most Israeli families take their children on an trip to a foreign country to celebrate. However, for families wounded by war, this isn't always possible.
The group visited Canada and Chicago last week and will be touring New York this week. The teens will also spend some time in Camp Ramah.
Shlomi Nahumson, IDFWO Youth Director commented: "This trip is a life changing event for everyone involved, the participants, the counselors and even the host families. We come to celebrate life and temporarily ease the emotional baggage that these children carry with them daily. Watching us from a distance, smiling, laughing and enjoying, you wouldn't realize the pain and anguish these children have suffered from such an early age. At home they often have the chores and responsibilities of an adult, while at the IDFWO Otzma programs they are allowed to be children again, albeit temporarily."
The youths will have pool parties, go canoeing, visit Six Flags amusement park, watch the Chicago White Sox, Niagara Falls, as well as visit Madame Tussauds, Times Square, and Walmart.
IDFWO in Chicago
IDFWO
IDFWO at Six Flags amusement park
IDFWO