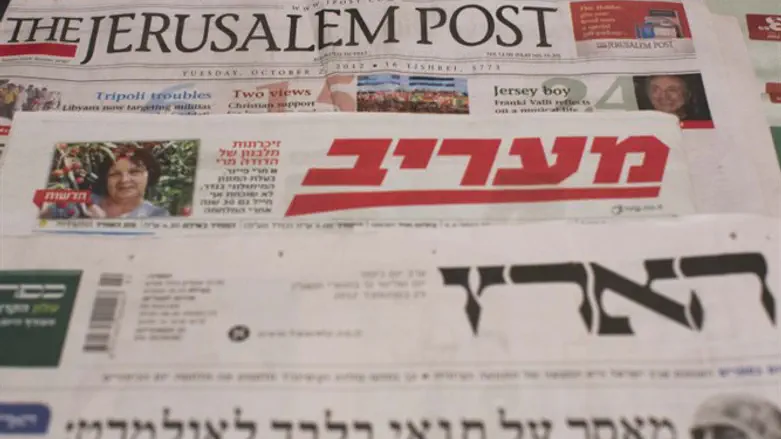 Israeli newspapers: Jerusalem post, Maariv, Haaretz
Yonatan Sindel/Flash90
A poll published on Monday by the group 'TGI' indicated an overall right-ward trend among news readers.
The poll shows that in the first six months of 2016, The daily Yisrael Hayom has increased its share of Israel's total readership by 1.5% (including up to 39.7% of Israel's total readership compared to last year's 38.2%). In contrast, the daily Yediot Achronot has remained constant in its percentage of total readership.
Yisrael Hayom is widely considered a relatively right-wing paper due to its support for the Netanyahu administration.
The corresponding weekend editions of these papers have similar amounts of readership, with Yisrael Hayom having increased from 37.6% to 37.6% since last year, and Yediot Achronot having decreased from 39.8% to 37.7% since last year.
Among smaller Israeli papers, the changes are even more pointed.
The poll indicated that weekend papers B'Sheva (the Hebrew print version of Arutz Sheva), Maariv, and Makor Rishon, all, to one degree or another, more right-leaning, showed an overall increase in readership since last year. In contrast, the far-left Haaretz showed an overall decrease in readership from 6.6% last year to 4.3% in the first half of 2016.