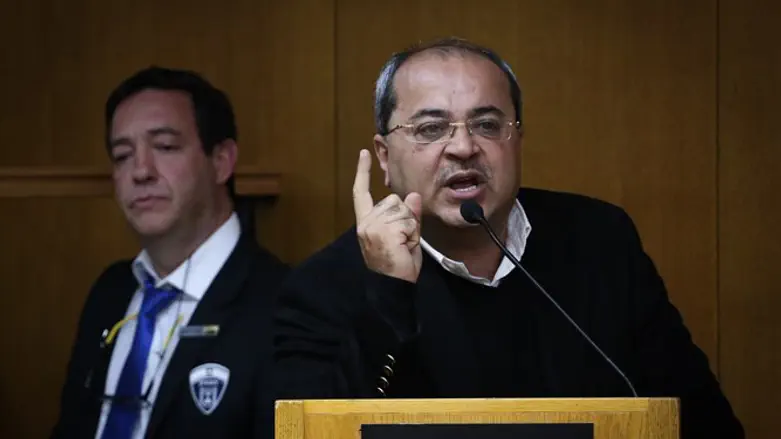 Ahmed Tibi
Hadas Parush/Flash 90
MK Ahmed Tibi (Joint List) on Thursday blasted Defense Minister Avigdor Liberman after he compared an Army Radio program about Arab ultranationalist poet Mahmoud Darwish to praising "the literary quality of Adolf Hitler's Mein Kampf".
Liberman made the comments on Thursday as he met with Army Radio commander Yaron Dekel to reprimand him over the station's airing of the program.
Darwish, an ardent opponent of Jewish self-determination, is seen as a figurehead for many anti-Zionists, and the show drew widespread anger and condemnation.
"Up to now, we've known that the Defense Minister was racist, violent and hallucinatory," said Tibi on Thursday in response to Liberman's comments, according to Haaretz.
By summoning Dekel to a meeting about the station's broadcast of the program about Darwish, Liberman has shown himself to be ignorant, Tibi said, but by comparing Darwish and Hitler, "it turns out that he is also a Holocaust denier."
Darwish will "also withstand cultural commissars like Liberman and [Culture and Sports Minister Miri] Regev," declared Tibi.
During his meeting with Dekel, Liberman reportedly minced no words in voicing his displeasure, but insisted he would not be intervening in the channel's broadcasts.
"There is no intervention by the political echelon in the programs broadcast on Army Radio," he said. "But the mission of the army radio station in a democratic and complex society like Israeli society is to strengthen solidarity within society, not to deepen divisions and certainly not to offend public sensibilities."