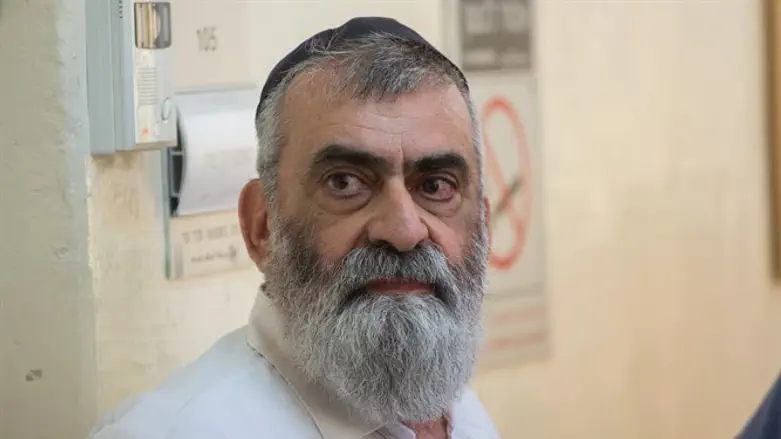 Eliezer Schlissel
Yonatan Sindel/Flash90
The father of Yishai Shlissel, who murdered one person and wounded several others in a stabbing attack on last year's Jerusalem Pride Parade, said he offered to meet with the slain victim's father, but was declined.
16-year-old Shira Banki was stabbed to death by Schlissel, who is now suspected of having conspired to attack today's parade as well.
"He didn't want to meet," explained Eliezer, Yishai's father. "He say's it is too hard for him...I completely identify with that pain." Shlissel's father said he had tried to contact Banki several times.
Eliezer Shlissel was interviewed in front of the Jerusalem District Court, where his son Michael's arrest was being extended. Police feared that Michael Shlissel would lead a similar attack to Yishai's.
When asked by reporters what he would say to Banki's father, he responded: "I would hug him, kiss him. I feel as if my own daughter were attacked."
During the press interview, he renounced his son's attack with vehemence: "I have no connection to this act. We don't even have words.
"I say this clearly: "Thou shalt not kill" takes precedence, due to how it is written in the Torah. There is no justification for it. Because of that, we do not identify with the situation."
Yishai Shlissel went on a stabbing spree at the 2015 Jerusalem Gay Pride Parade, wounding 5, and killing 16 year-old Shira Banki.
Shlissel had just been released after spending a decade in prison for a similar attack on the 2005 Jerusalem Gay Pride Parade. In both cases, he cited religious motivations for his attacks.
He is serving a life sentence in prison.