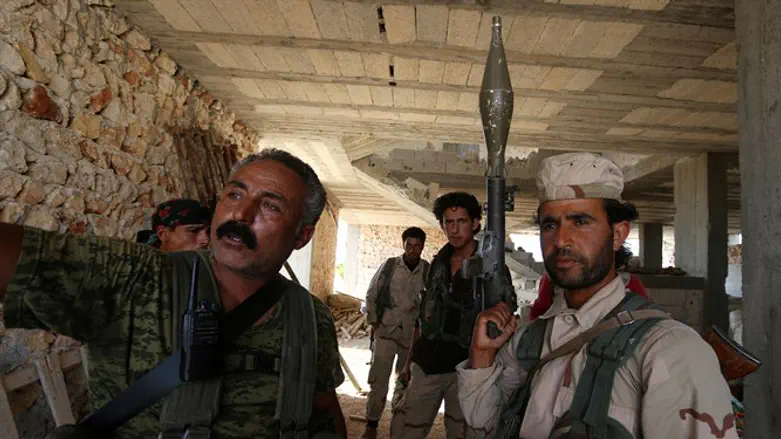 Syrian Democratic Forces fighters outside Manbij
Reuters
(AFP) - US-backed fighters on Thursday gave the Islamic State jihadist group (ISIS or IS) 48 hours to leave the battleground Syrian town of Manbij, after US-led air strikes nearby reportedly killed dozens of civilians.
The raids on Tuesday by the coalition fighting ISIS in Syria and Iraq have provoked an intense backlash and local protests.
Syria's opposition has urged the US-led coalition to suspend its strikes, and international rights groups demanded a thorough investigation.
The Kurdish-Arab Syrian Democratic Forces (SDF) alliance that issued the ultimatum said it was intended to "protect civilian lives" in Manbij, a jihadist bastion in Aleppo province.
The alliance has been fighting to oust ISIS from the town since June, backed by heavy coalition air strikes.
"This initiative is the last remaining chance for besieged members of Daesh (ISIS) to leave the town," said the Manbij Military Council, part of the SDF.
"In order to protect civilian lives and property and to protect the town from destruction we announce that we accept the initiative under which besieged IS members would leave with their individual light weapons," the statement added.
The initiative was first floated last week by tribal leaders in Manbij, an SDF commander told AFP.
"But we took this decision now after IS used residents as human shields, after the media pressure on us, and to protect whatever civilians are left in the town," the commander said on condition of anonymity.
The statement also urged civilians to try to leave Manbij or distance themselves from areas where clashes are taking place.
It follows an intense backlash over the reported deaths on Tuesday of at least 56 civilians, including children, in US-led air strikes while fleeing the ISIS-held village of Al-Tukhar near Manbij
Several tens of thousands of civilians remain in Manbij, according to the Syrian Observatory for Human Rights, a British-based monitoring group.
Protests against civilian deaths
The strikes produced one of the highest reported civilian tolls in bombardment by coalition warplanes in Syria.
Syrian activists online urged people around the world to take to the streets to protest the deaths under the banner "Manbij is being exterminated".
"We ask all Syrians, whatever their affiliations or sects, and all free people of the world and especially the people of Manbij to stand in solidarity with our devastated city on Sunday, July 24," wrote one page that publishes local news about Manbij.
Activists on the "Manbij News" page called for protests in several Turkish cities including Istanbul and Gaziantep.
There have already been protests in some parts of Aleppo province.
Dozens gathered in rebel-held Azaz on Wednesday to condemn the strikes, with a young boy holding up a placard that read: "Our children will tell God everything."
The raids drew international condemnation including from the UN's children agency UNICEF.
"No matter where they are in Syria or under whose control they live - absolutely nothing justifies attacks on children," said UNICEF's Syria representative, Hanaa Singer.
The agency said as many as 20 children may have been killed in the strikes.
'Very difficult fight'
The opposition National Coalition on Wednesday appealed for a halt to US-led strikes against ISIS in Syria to allow a thorough investigation into what it described as a "massacre".
Its president Anas al-Abdah said the US-led coalition was responsible for the "crimes" in Manbij which he said killed at least 125 civilians.
The coalition has acknowledged conducting air strikes near Manbij recently, and said it was looking into the reports of civilian deaths.
"We will conduct an investigation on any possible civilian casualties in this matter, as we always do, and we'll be transparent about that," Defence Secretary Ashton Carter said on Wednesday.
General Joe Votel, head of US Central Command, said the Manbij operation was a "very difficult fight" with ISIS jihadists appearing in various locations.
"And so when it's a dynamic situation like that... we have to respond. And I think that's the situation in which we found this particular" operation.
The Pentagon has acknowledged 41 civilian deaths in its strikes in both Syria and Iraq since 2014, but the Observatory has reported more than 450 civilians killed in US-led raids in Syria alone.
The coalition continued its raids in support of the SDF on Thursday, with the Observatory reporting fresh strikes on Manbij in the morning.
It said SDF fighters had seized a southern district of the town overnight.
More than 280,000 people have been killed and half the population displaced since the conflict began in March 2011 with anti-government protests.