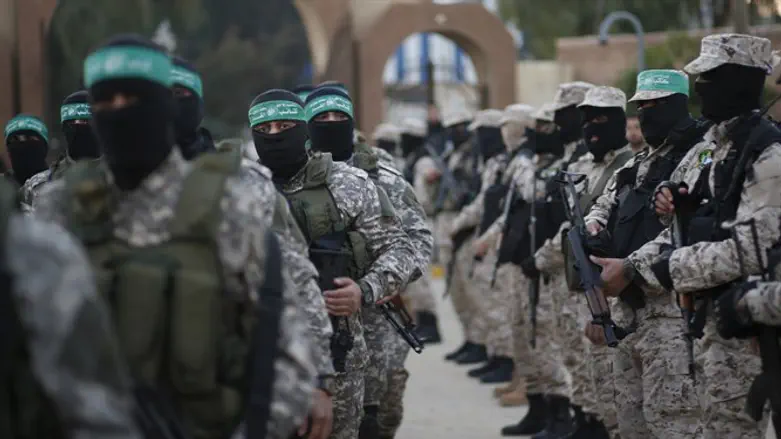 Hamas
Reuters
A Palestinian Authority-based human rights organization on Wednesday condemned the latest death sentences handed down by tribunals in the Hamas-ruled Gaza Strip, AFP reports.
On Tuesday, a military court in Gaza sentenced three local residents to death after they were convicted of providing information to Israel's security services.
The trial of the alleged "spies" was held behind closed doors and without the presence of the media.
The Gaza Military Court announced a sentence of death by hanging for a man identified as M.S., aged 59, from the Tuffah area east of Gaza city on charges of "collaborating with the Israeli occupation."
The Higher Military Court said it had confirmed execution orders against two other men, one a 49-year-old man from Khan Yunis, by hanging and a Gaza City man aged 38 by firing squad.
In response, the Palestinian Center for Human Rights (PCHR) condemned in a statement the "excessive" punishment and said that "civilians should not appear before military courts."
The authorities in Gaza executed three men behind closed doors in May, the first time the death penalty had been carried out since 2014.
13 death sentences have been pronounced this year, 12 of which were issued by military courts, according to PCHR.
Hamas regularly claims to have captured "Israeli spies", and many times it tries them and sentences them to death.
In one such example, the group claimed to have exposed "the most dangerous intelligence agent" who allegedly worked for the Israel Security Agency (Shin Bet).
Under Palestinian law, collaboration with Israel is punishable by death. All death sentences, however, require the approval of Palestinian Authority (PA) chairman Mahmoud Abbas, who issued a moratorium on death sentences in 2005.
Hamas ignores the moratorium and carries out the executions anyway, as it no longer recognizes the legitimacy of Abbas, whose four-year term expired in 2009.
Amnesty International has previously called on Hamas to stop the executions of suspected collaborators, saying that the group "must immediately and totally cease its use of the death penalty."