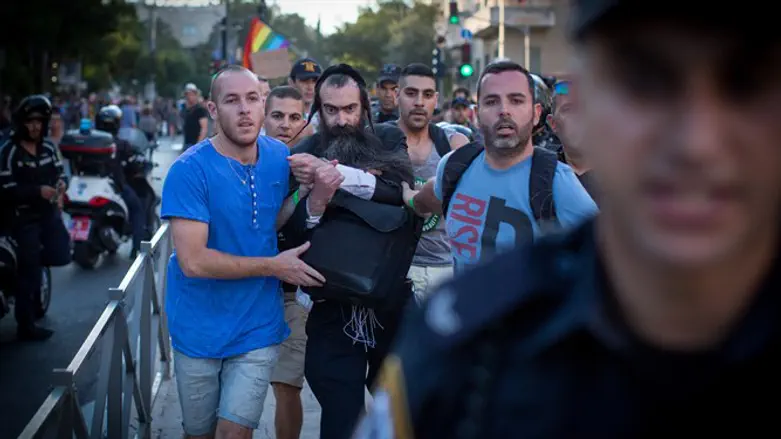 Police arrest gay parade attacker Yishai Shlissel
Flash 90
Police and detectives on Wednesday morning visited the family of Yishai Shlissel, who murdered one person and wounded several others in a stabbing attack at last year's Jerusalem Pride Parade. His mother and five of his brothers were taken in for questioning.
At the end of the questioning period, several family members were asked to sign a restraining order keeping them out of Jerusalem during Thursday's Pride Parade. Some, though not all, have been released.
Itamar Ben-Gvir, from the legal defense organization Honenu, is representing the family. He claims that police are harassing the family for no good reason, in order to make up for the Jerusalem Police Department's blunders last year which enabled Schlissel - who had only been released weeks prior after serving a long prison term for a stabbing at a previous Pride Parade - to carry out his deadly attack.
"the police admitted to most of the people being investigated that there was no grounds for the detainment," said Ben-Gvir. "This is an abuse of a family solely due to their relation to Yishai Schlissel.
"The early morning raid on the family home will not erase the shame and police blunders that occurred last year, and you cannot fix an injustice with another injustice. You cannot question innocent people in a baseless investigation only because of what their family member did."