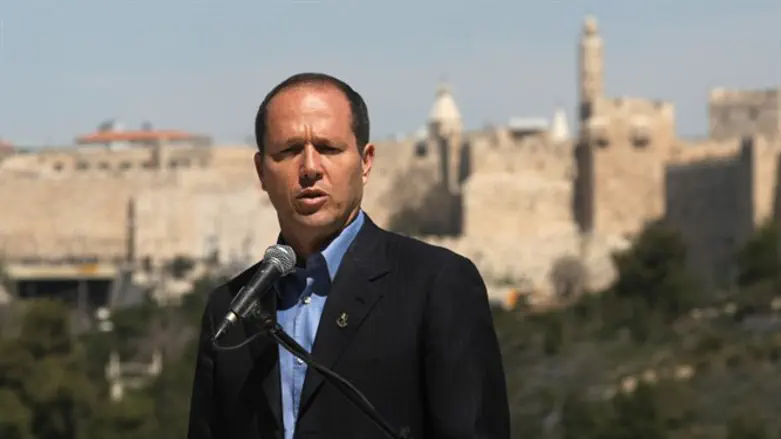 Nir Barkat
Israel news photo: Flash 90
Mayor of Jerusalem Nir Barkat explained in an interview with Yediot Ahronot why he doesn't intend on participating in the gay pride parade planned for tomorrow (Thursday), in the capital.
"I won't be marching because I don't want to be part of something that offends the haredi and religious populations," the Mayor said. He went on to explain that while the municipality gives equal treatment to the gay community, they need to understand that their actions in this case offend the religious public.
"The gay-lesbian community is served by the Municipality to its own satisfaction. Of course it's their right to march. The Jerusalem Municipality, the police, and myself will do everything we can to allow them to exercise this right, but they need to know that it offends others. Tolerance isn't just letting people march, it's also looking for ways to achieve your goals without attacking other people's feelings or opinions. Jerusalem has a very large population that has serious difficulty with the parade.
Regarding the parade itself, Barkat opined that "it's a symbol that has some positive and some negative elements. As the Mayor, I support the positive elements of the parade's message, and the right to march."
When asked again why therefore he won't join the march himself in order to give the parade greater symbolic importance Barkat replied: "So you're actually coming out and asking me to be a part of something that offends the haredi and Religious-Zionist public. I say no. I don't want to offend that public. As the Mayor I represent everyone, and that's why I stand by all the communities in the city and will do everything to enable them to exercise their rights."