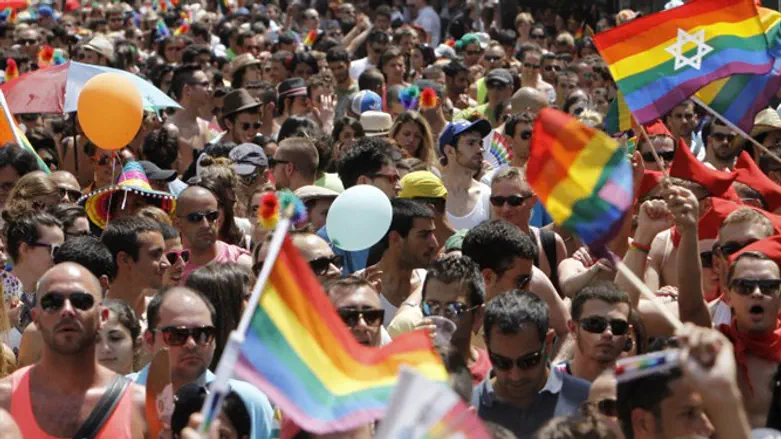 Gay pride parade, Tel Aviv (file). Civil marriage rejected by Knesset on Wednesday.
Flash90
The "Israel Religious Action Center (IRAC)," representing the political arm of the Reform Movement in Israel, has demanded that Jerusalem police open an investigation on Bentzi Gopstein, the head of the Lehava organization which combats Jewish assimilation, for calling to demonstrate against the upcoming Gay Pride parade in Jerusalem.
The Reform Movement cited an article in which Gopstein wrote: "This is not the way that we learn from the weekly Torah portion. If Pinchas had stayed quiet, the plague on the Children of Israel would not have stopped; he didn't care about his image. The Pride Parade will see the appearance of the most disgusting elements of society, the bottom of the barrel of humankind, whose goal is to spread their filth and sully the holiness of the Holy City," Gopstein wrote.
IRAC wrote to Jerusalem Police that "any attempt to stop the Parade will, without a doubt, deviate from any legally acceptable standard available to Gopstein.
"In light of the history of tragic violence against those marching in the Parade, it is essential that the police relate to Gopstein's words with the utmost seriousness, using any means available to prevent any possibility of violence on the part of Gopstein."
The organization is referring to last year's murder of teenager Shira Banki at the parade.