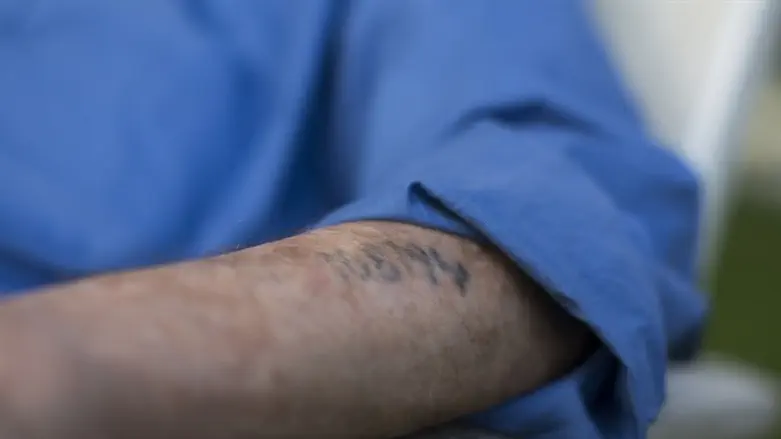 Holocaust survivor
Yonatan Sindel/Flash 90
A city councilwoman in Birmingham, Alabama, told police that a gun-wielding Jewish man threatened to harm her for opposing city funding of a Holocaust memorial.
In a police complaint filed July 12, Sheila Tyson said a car pulled up to her as she was leaving the Birmingham Zoo on the afternoon of July 9 and the driver said, "(Expletive), I will blow your (expletive) brains out for talking about my Jewish ancestors," the Alabama Media Group reported Monday.
According to the complaint, Tyson "took off" in her car after the man picked up a handgun and started leaning over to the window. Tyson also shared threatening emails she had received and said she had received threatening phone calls.
In June, Tyson criticized the city's plans to spend $45,500 to assist in the construction of a privately funded Holocaust memorial park that would be adjacent to a 9/11 memorial.
The memorial, spearheaded by the Birmingham Holocaust Education Center, will cost approximately $500,000 in total.
According to the Alabama Media Group, Tyson was angry that the city was allocating funds for the memorial after it had turned down her request for funding to restore a historic African-American cemetery in disrepair. Shadow Lawn Cemetery, which dates back to the 1930s, is the burial site for one of first lady Michelle Obama's great-great-grandfathers, according to the publication.
"Dead is dead," Tyson said in June, adding, "It is for dead people. Aren't the people they are memorializing [at the Holocaust memorial] deceased?"
Tyson later said her statements about the Holocaust memorial had been mischaracterized, writing on Facebook, "My point, however, remains the same: how and why do we choose whom we memorialize, Shadow Lawn Memorial or the Holocaust Memorial? I support both."
"For the record, I will be clear: I support the use of public funds for the Holocaust memorial. However, I will only vote to allocate these funds when we are provided with clear guidance about the law pertaining to funding memorials."