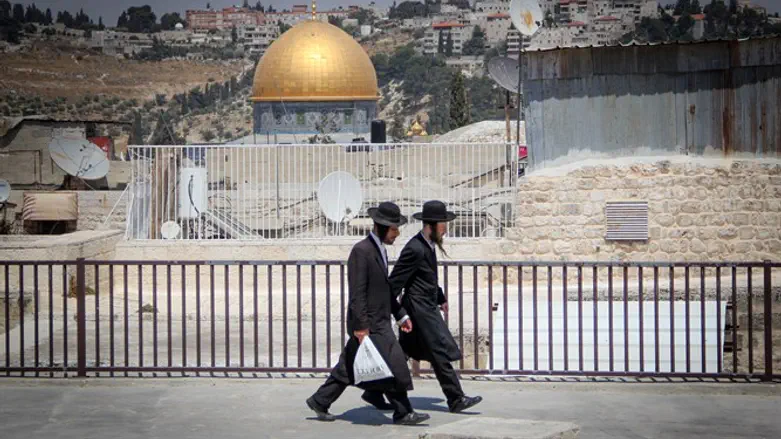 Haredi Jews walk close to the Temple Mount in Jerusalem
Garrett Mills/Flash 90
The Jerusalem Development Authority (JDA) has announced that the Travel Blog Exchange (TBEX), the largest conference and networking event for new media travel professionals-- including bloggers, travel journalists, travel brands and industry professionals-- will be hosting its annual 2017 event in Jerusalem.
Ilanit Melchior, Director of Tourism for the JDA, has welcomed the conference as a unique opportunity to expose leading opinion-makers in the travel industry to the wonders of Jerusalem.
"This is an important opportunity to reach the top opinion leaders in the travel industry and travel media. Jerusalem offers conferences so much more than just the facilities for a successful event, but the opportunity to enjoy the city's unique history, culture, culinary delights and nightlife."
Although TBEX has been holding a yearly conference every year since 2009 which attracts up to 1000 people from all over the world, with each conference having had a focus on Europe, Asia, or North America, this is the first such conference that will be fully "internatonal" in its scope.
The Vice President of TBEX, in explaining the choice of Jerusalem as the location for the event, indicated that she felt Jerusalem was inherently "international."
"Geographically in Asia, but more economically and culturally aligned with Europe, Jerusalem is one of those special destinations that defies classification and is best explained as International," she said.