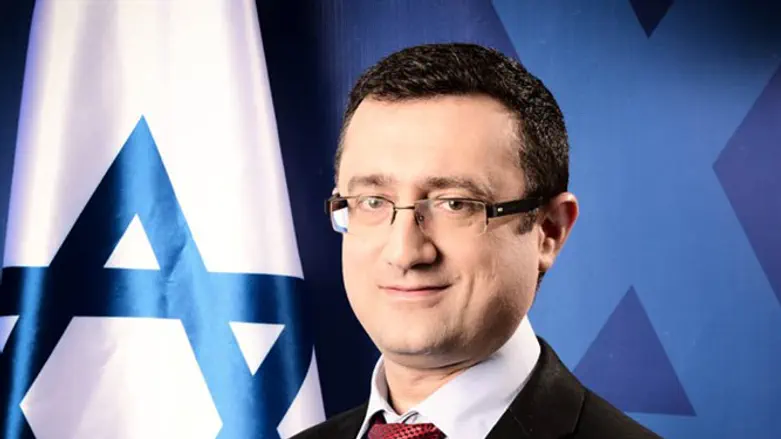 Robert Ilatov
Yisrael Beytenu
MK Robert Ilatov of Yisrael Beytenu expressed satisfaction at the passage late Monday of the NGO "transparency law", which he authored together with Jewish Home MK Betzalel Smotrich and Justice Minister Ayelet Shaked, also of Jewish Home.
"Organizations that present themselves as objective but are funded by foreign countries are unacceptable in a democratic country," Ilatov told Arutz Sheva, "Israel has its own strong institutions that deal with matters of human rights and equality and we can't allow a situation where other countries are funding NGOs whose purpose is to delegitimize Israel."
The law will ensure that organizations report publicly that they receive funding from foreign countries, Ilatov said, "that way the public will know if these NGOs are actually objective."
The MK added that the law will also prevent "blatant interference" by various leftist organizations in Israeli elections. "We already have a law that defines what is allowed and what is not allowed in terms of election donations, but some bodies hide behind foreign nations to circumvent the laws and blatantly interfere with election cycles."
"There is a straight and legitimate electoral process, and if certain elements hide behind the moniker of human rights organizations but are really acting to promote whatever political camp they compromise the entire democratic process. With this law the elections committee will be able to intervene and prevent this kind of interference."
As previously reported on Arutz Sheva, the law stipulates that any organization receiving over half of its funding from foreign countries would need to disclose this fact on every official document. Moreover, a declaration to this effect would have to be prominently displayed on any advertisement on billboards, television, and newspapers; on the organizations' website; in any request or petition sent to a public official; and on any report on the organization published for public consumption.
In addition, any representative of such an organization participating in a Knesset committee meeting would have to disclose the fact that the majority of the funding comes from foreign sources to the chairman of the committee either before or during the meeting. If the representative is asked by any MK where the organization's funding comes from, he would have to reveal the sources.
Failure to comply with any of the stipulations can be met with a fine of up to 29,000 NIS.