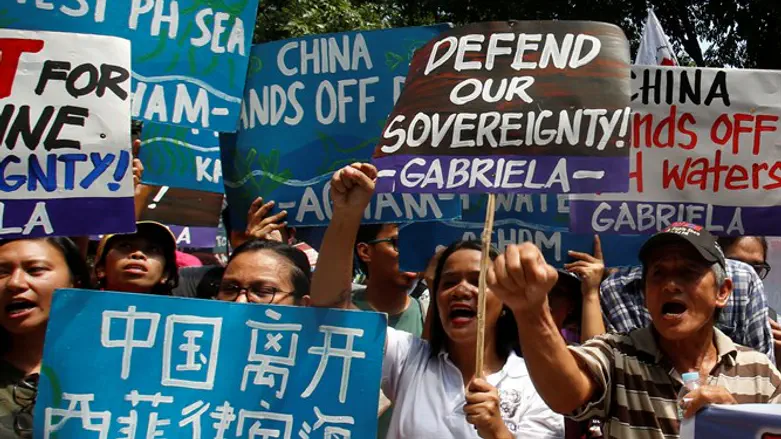 Protesters in the Phillipines, against China's use of force in the South China Sea
Reuters
The Permanent Court of Arbitration in The Hague ruled on Tuesday that China has no historic claim over the waters of the South China Sea.
The ruling came after the Philippines sued for fishing rights, citing the effective Chinese blockade that has prevented Filipino boats from reaching the Scarborough Shoal, at risk of the fishermen's lives and property. 4 years later, the Filipino economy is suffering from the loss of some 30% of its gross national product.
The Philippines also argues that China has violated the country's sovereign rights, as the economic giant drills in the Reed Bank for oil and gas.
The tribunal chastised China for its reckless domination.
"There was no legal basis for China to claim historic rights to resources within the sea areas falling within the 'nine-dash line'," the court said, referring to a demarcation line on a 1947 map of the sea, which is rich in energy, mineral and fishing resources.
In the 497-page ruling, judges also blamed Chinese law enforcement patrols for risking collision with Filipino fishing vessels, and causing irreparable damage to coral reefs through their construction work.
None of China's reefs and holdings in the Spratly Islands entitled it to a 200 mile exclusive economic zone, the report added.
Beijing, though, has already rebuffed the court:
"The arbitration tribunal made the illegal and invalid so-called final verdict on the South China Sea dispute on July 12. Regarding this issue, China has made the statement for many times that it is against the international law that the Aquino III administration of Philippines unilaterally requested the arbitration. The arbitration tribunal has no jurisdiction on this matter."
China's state-run Xinhua news agency announce, shortly before the ruling, that a Chinese civilian aircraft had carried carried out calibration tests on two new airports in the disputed Spratly Islands.
China's Defense Ministry reported that a new guided missile destroyer was commissioned at a naval base in the Hainan province. Hainan runs all operations the South China Sea.
"No matter what kind of ruling is to be made, Chinese armed forces will firmly safeguard national sovereignty, security and maritime interests and rights, firmly uphold regional peace and stability, and deal with all kinds of threats and challenges," China's Defense Ministry said earlier in a bilingual Chinese and English statement shortly before the ruling was made public.
As China flexes her muscles in a total disregard of the Hague ruling, other countries look to the dispute as a precedent for territorial disagreements to come. Will the international court be given arbitrary power, or will might make right?