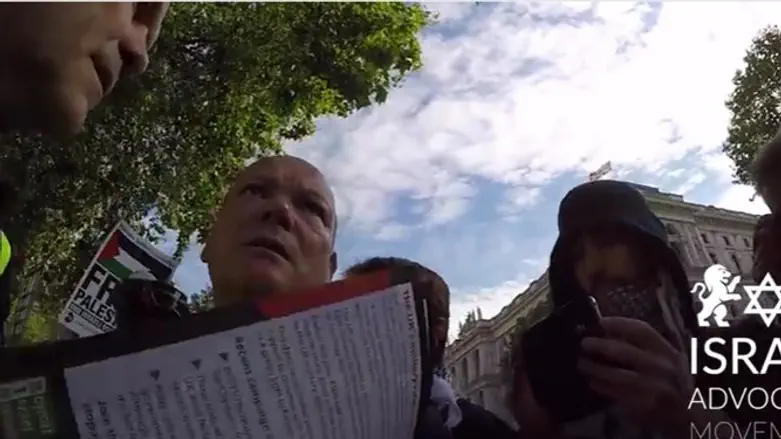 Screenshot
Israel Advocacy Movement
A group of pro-Israel activists in London were physically assaulted after infiltrating an anti-Israel rally to offer another perspective to propaganda against the Jewish state.
Fresh from facing off against the Iranian-sponsored, pro-Hezbollah Al Quds Day march, activists from the Israel Advocacy Movement (IAM) decided to take on the UK's most prominent - and one of its most extreme - anti-Israel organizations: the Palestinian Solidarity Campaign (PSC).
Dressed as anti-Israel protesters, the group of Jewish and Muslim Zionist activists walked to the heart of the rally and handed out pro-Israel literature, even engaging some of the bemused protesters in dialogue.
Unsurprisingly, a number of the anti-Zionists didn't take too kindly to being challenged. At one point, a particularly irate PSC member can be seen shoving and even swinging a punch at the unwelcome guests.
Warning: Strong language
After being extracted by police, the small group then staged their own peaceful pro-Israel counter-protest - to the fury of the PSC activists.
IAM founder Joseph Cohen said despite the apparent futility of attempting to engage with an extremist group linked to anti-Semitic and homophobic Muslim and Christian hate-preachers, it was nevertheless crucial for Zionist activists to never abandon the playing field.
"We decided to infiltrate the PSC anti-Israel demo to hold a mirror to the faces of the protesters so they could see just how twisted their ideology is," he told Arutz Sheva.
One of the issues he said his group had hoped to highlight by their action was how anti-Israel groups like the PSC have an obsessive fixation on the Jewish state.
"In 2015 those killed in the Palestinian-Israeli conflict were just 0.16% of all deaths in Middle East conflicts," Cohen noted. "We wanted them to see that nothing other than anti-Semitism explains the obsessive focus on and demonisation of the world's only Jewish state.
"The only way we could get this message across was to slip under the radar and hand out flyers from within their protest, so we donned our keffiyehs and did just that."
He acknowledged his group had realized that "things could turn nasty as their movement is swelled with thugs, but we wanted to show the BDS that gone are the days when their hatred went unopposed. Every time they mobilize a protest we will counter them, just as we did on Friday and again at the al-Quds Day protest when we brought their march to a stand still.
"It was pretty intimidating being surrounded by the mob, but I think my biggest concern was making sure my wife Chloe was safe (she was filming the action)."
And despite the threats and violence, Cohen insisted some of those he had encountered engaged more positively with the pro-Israel activists.
At one point in the clip, an anti-Israel activist can be seen expressing his admiration for the pro-Israeli group.
"Any fear we had was dwarfed by the huge satisfaction we took in knowing we'd not only disrupted their parade of hatred, but that we'd made many of their demonstrators reconsider their positions on Israel."