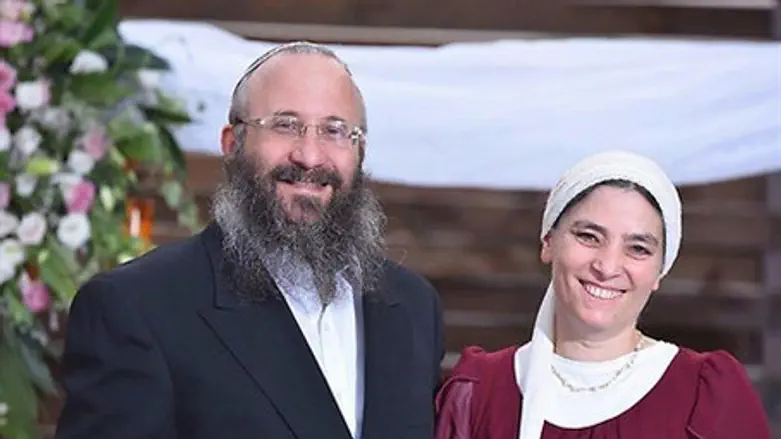 Michael Mark with wife Chava, who was seriously wounded in the attack
Courtesy of the family
"Mom is holding our hands, speaking with us, she even opened her eyes. Who would have believed it?"
These emotional words were written by Orit Mark, whose father, Rabbi Michael Mark, was killed in a shooting attack on Friday. Her mother, Chavi, was seriously wounded and is being treated in Hadassah Ein Kerem Hospital. Yesterday, her mother Chavi Mark finally regained consciousness.
In a text message to her high school friends, Orit, who just finished 11th grade, thanked them for their prayers: "We are seeing miracles. Mom is talking, kissing, holding hands. Everything is thanks to your prayers, my loves, and thanks to my father, who must be storming Heaven."
She also thanked them for supporting her through the funeral of her father: "You have no idea how much joy you brought, girls, how much respect you brought to my righteous father. He would have been so proud of me, that these are my friends. My father was a great man...I don't want you to break, you shouldn't get depressed. That's how my father would have wanted it."
Haddasah Hospital has reported that Chavi Mark is breathing without a respirator, and has regained consciousness.
Meanwhile, the IDF continues to maintain a "moving lockdown" over the Hevron area as they hunt down the perpetrators of the attack. Sunday night saw the arrests of at least 4 Palestinians in the area, 2 from one family, and one white Hyundai was impounded.
Mark left behind 10 orphans. At his funeral, Tehillah Mark, 14, retold the story of how her father tried to save them from the attack. 
"I saw you in your final moments. When I heard the shots I immediately dropped down. Pedaya and Mom too. But you were driving, and you wouldn't leave the steering wheel. You didn't protect yourself. Until your final breath, you tried to save us."
Rabbi Mark, principal of the Otniel Yeshiva, was murdered in front of his family. At around 3:00 PM on Friday, Palestinian terrorists shot more than 20 bullets from their car to the Marks' car. His wife, Chavi, was critically injured, and two of his children - Pedaya, 15, and Tehillah, 13 - were lightly wounded.