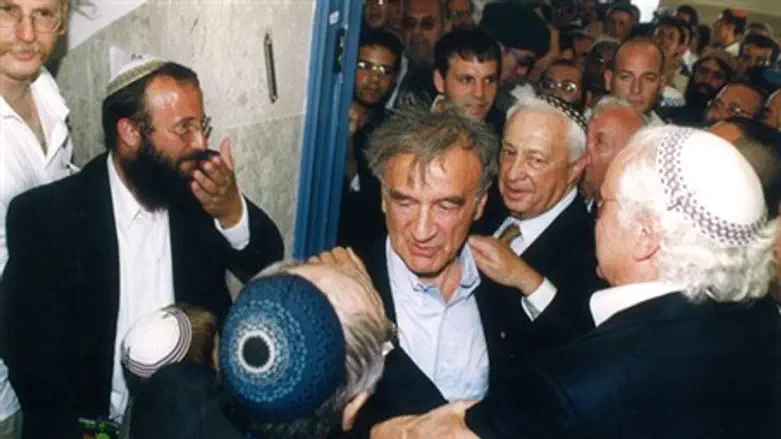 Elie Wiesel next to Michael Mark
Beit Vaad Letorah, Har Hevron
An eerie photo has surfaced of Elie Wiesel hanging a mezuzah in Otniel. Next to him in the photo stands Michael Mark (gesturing with his hand).
Michael was murdered on Friday, when a terrorist sprayed more than 20 bullets at his car. Killed instantly, his car flipped, with his wife and children inside. His wife is still on life support, although his son Pedaya is set to be released today, while another daughter is awake in the hospital.
In a strange parallel, Elie Weisel passed away on Saturday, at the age of 87. Weisel,  a Holocaust survivor known for personifying "Never Again," fought to represent the Jewish nation reborn, stronger than ever.
In the picture, they were together at the dedication of a new Beit Midrash (Torah study hall) in the town of Otniel, where Rabbi Mark lived and close to where he was murdered on Friday.
Today these two heroes, one a resident of the land, the other a figure of the world that was, stand together in our memories. 
Also present in the picture is former Israeli prime minister Ariel Sharon.