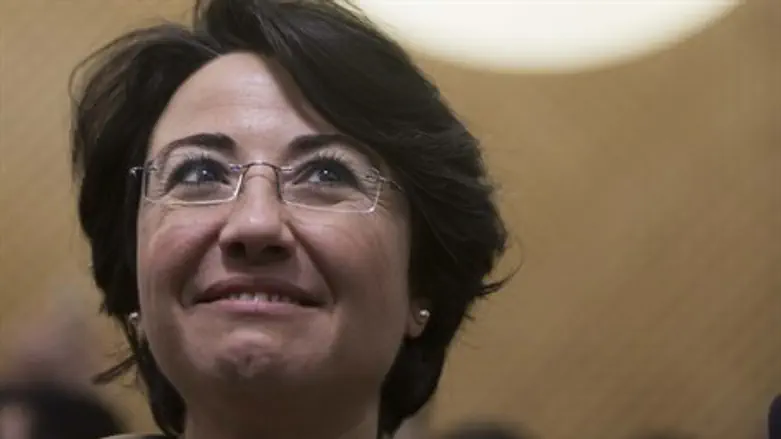 Hanin Zoabi
Flash 90
MK Hanin Zoabi (Joint Arab List) on Thursday morning justified her recent claims that Israeli naval commandos "murdered" the passengers of the Mavi Marmara while she participated in the 2010 "Gaza flotilla", which attempted to break Israel's security blockade on Gaza.
"Hanin Zoabi does not have the freedom and right to express her political views," Zoabi said speaking in third person during an interview with Army Radio.
Referring to the newly-inked agreement with Turkey, Zoabi vindicated her support for the flotilla and demanded an apology from her critics. "Do not argue with me, you signed an agreement, and I say it was a confession that Israeli naval commandos murdered, some murdered in Gaza, some murdered babies, what is new about that?"
"I represent a national consensus; I not only represent a Palestinian consensus of my people but also a global consensus. If I stand on a stage and [Binyamin] Netanyahu stood across from me, do you know who would get applause?" concluded Zoabi.
Following Wednesday's incident, Prime Minister Binyamin Netanyahu spoke with Attorney General Avichai Mandelblit regarding the possible expulsion of Zoabifrom the Knesset, saying her actions "crossed the line and she has no place in the Knesset."
Defense Minister Avigdor Liberman, meanwhile, blasted Zoabi and said, "The soldiers of the IDF will continue to fight terrorists on land, sea, and air, including terrorists sailing on the sea [in flotillas], and who happen to be Knesset members."