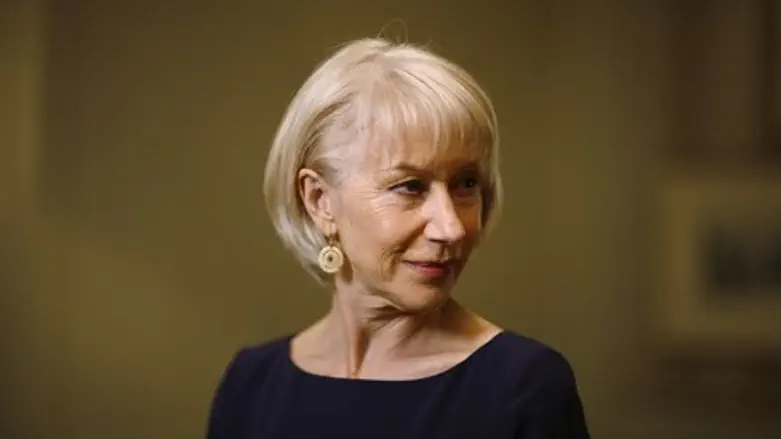 Helen Mirren
Reuters
Oscar-winning actress Helen Mirren, who is visiting Israel where she hosted the Genesis Prize award ceremony on Thursday, has expressed support for Israel and rejected efforts to boycott it, The Associated Press reported.
Mirren on Wednesday showered Israeli artists with praise and said she opposed both the efforts by pro-Palestinian groups to boycott them and the decision of some international artists to shun Israel.
"I think that art is an incredibly important way of communication," she was quoted by AP as having said at a press event in Jerusalem. "The artists of the country are the people you need to communicate with and make a relationship with and learn from and build upon. So I absolutely don't believe in the boycott, and here I am."
Mirren, who is not Jewish, has visited Israel several times, and has been a vocal critic of pro-Palestinian activists who have called for a cultural boycott of Israel. The Boycott, Divestment and Sanctions (BDS) movement has enlisted the support of such artists as Roger Waters and has persuaded Elvis Costello, Lauren Hill and other performers to call off concerts in Israel.
At the same time, many artists and actors have rejected calls to boycott Israel, including Dionne Warwick, Alan Parsons and Kevin Costner, among others.
Last October Mirren was honored at the 29th Israel Film Festival at the Saban Theater in Beverly Hills, where she revealed how her first visit to the Jewish state shaped her career.
Hearkening back to her stay in Israel, the British actress said at the time, "I was thinking about the building blocks that lead you to becoming the person you will become. I was thinking that my visit to Israel in those days was a part, not a direct connection, but it's absolutely a part of the building blocks that have made me the actress I am and doing the kind of work that I do."
On Wednesday, noted AP, she stressed that she is "a believer in Israel ... I think this is an extraordinary country filled with very, very extraordinary people. It's just a lucky, for me, accident in my life that I have had this privilege."