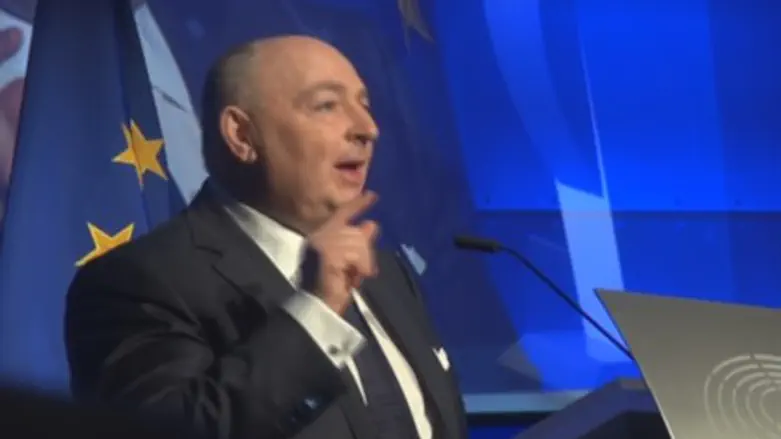 EJC President Moshe Kantor
European Jewish Congress
The European Jewish Congress (EJC) has called on European leaders to condemn Palestinian Authority (PA) Chairman Mahmoud Abbas' speech to the European Parliament, in which he claimed that Israeli rabbis called to poison Palestinian water and that global terrorism will end if the Israel-Palestinian conflict is resolved.
"It is unconscionable that a foreign leader proudly states a blood libel in the European Parliament and he receives a standing ovation," said Dr. Moshe Kantor, President of the EJC.
"If a far-Right politician would have made similar comments they would have been correctly discredited, but Abbas is feted like a hero and this double-standard allows him to evade scrutiny in the international arena and the negotiations table."
Dr. Kantor further stated that President Reuven Rivlin, with the help of European leaders, attempted to arrange a meeting with Abbas while the two were in Brussels.  "[Abbas'] avoidance of an EU-backed meeting with Israel's President Reuven Rivlin demonstrates once again that he remains one of the greatest obstacles between a lasting peace between Israel and the Palestinians," he said.
"Additionally, Abbas' blaming Israel for global terrorism sets off dog whistles for anti-Semites and conspiracy theorists around the world. In one short speech, Abbas reminded the world that he has no interest in peace, continues to incite against Jews and Israel and uses the understandable fear of terrorism to rail against Israel and score political points."
 "The only question that remains is about the reaction of the international community to such a malicious and malevolent speech," Kantor concluded.
Prime Minister Binyamin Netanyahu 's office also released a statement regarding Abbas' remark: "In Brussels, Abbas showed his true face. Someone who refuses to meet President Rivlin and Prime Minister Netanyahu for direct negotiations and spreads a blood libel in the European Parliament falsely claims that his hand is extended in peace."
"Israel awaits the day when Abbas stops spreading lies and dealing in incitement. Until then, Israel will continue to defend itself against Palestinian incitement, which motivates acts of terrorism."