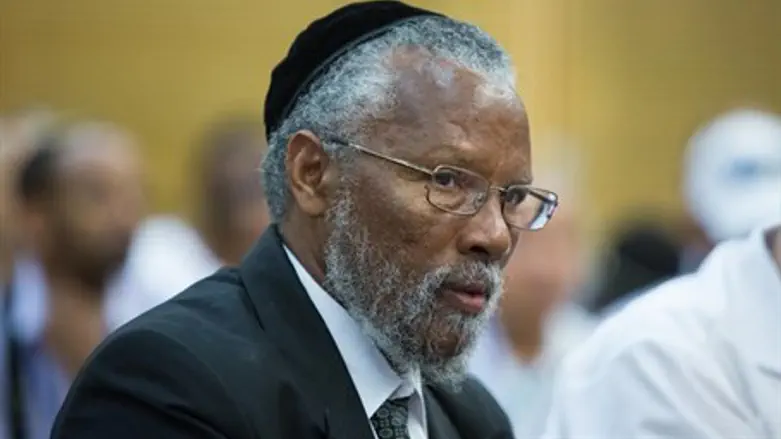 Rabbi Yosef Hadane
Jonathan Zindel / Flash 90
Chief Rabbi of the Jewish Ethiopian community of Israel, Rabbi Yosef Hadane, was dismissed from his position by the Ministry of Religious Services.
Army Radio reported that the reason for the rabbi's dismissal pertains to his allegations that marriage registration offices, run under the auspices of the Ministry of Religious Services, discriminate against Ethiopians, citing the Petah Tikva office as a notable offender.
Apparently, the Ministry of Religious Services did not like Rabbi Hadane's conduct, and when the Rabbi reached the age of 67, they denied his request to extend his term.
Most rabbis employed by the religious council have their extension application approved at age 67, however, top ministry officials announced his farewell without bothering to update him.
"'Rabbi Hadane is an employee of the ministry and will be treated in the same regard and any state employee who retires at age 67," said the Ministry of Religious Services in response. "The Rabbi may retire in late July even though he crossed the retirement age 7 months ago."
"We are deeply disturbed by the desire to depose Rabbi Yosef Hadane from his position serving the Ethiopian community," read a response statement from Tzohar, a Zionist Orthodox organization of rabbis that bridges the gaps between religious and secular Jews in Israel.
"It is inconceivable that a rabbi should be deposed by political and beurecratic [sic] figures and Tzohar therefore respectfully urges the Ministry to reconsider this decision which stands in opposition to basic ethics and Jewish values."