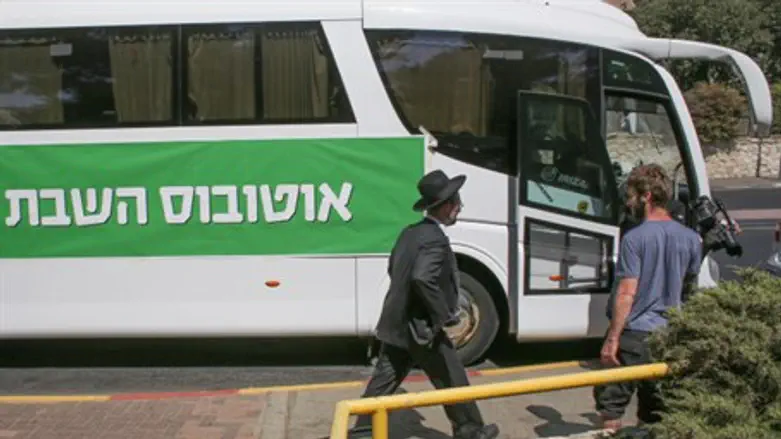 Meretz 'Shabbat bus'
Flash90
On Sunday, the Cabinet rejected a bill proposed by MK Yael German (Yesh Atid) to allow local authorities to determine whether or not to operate public transportation in their respective municipalities.
Currently, throughout most of Israel, there is no public transportation on Saturday.
A survey published by the Smith Polling Institute revealed that a majority (72%) of the Jewish Israeli public support the availability of full scale or partial public transportation on Shabbat and holidays.
Of the 28% who are opposed to operating public transportation on Shabbat and holidays, 19% favor the current situation while 9% support getting rid of the limited transportation that is currently available.
When examining levels of observance, the survey revealed that 94% of secular Jews support the initiative, as do 67% of traditional Jews, and 52% of Zionist-Orthodox Jews.
Unsurprisingly, 97% of Haredi Jews oppose the idea of public transportation on Shabbat, with 55% in favor doing away with the limited public transportation currently available on Shabbat.
Among voters for the coalition parties, there was high support for operating partial or full public transportation on Shabbat: 65% of Likud voters, 86% of Kulanu, 91% of Yisrael Beiteinu, and 65% of Jewish Home.
Voters for the opposition parties also supported the initiative: 93% of Zionist Union voters, 94% of Yesh Atid, and 94% of Meretz.
Only a majority of voters among the Haredi political parties opposed public transportation on Shabbat: 80% of Shas and 100% of United Torah Judaism voters.
"There is an intolerable gap between the public's support for the operation of public transportation on Shabbat, including the support of voters for the Government Coalition parties, and the obstinate, criminal indifference of the Coalition," said Rabbi Uri Regev, Head of Hiddush.
"Despite the tremendous level of public support, and despite the public's vital need, the Ministry of Transportation does not allow it," said Rabbi Regev adding that "There is no reasonable excuse for rejecting this proposal, other than kowtowing to the ultra-Orthodox parties' political coercion and bullying."
"This proves once again that most of the Israeli public is interested in having public transportation available on Shabbat," said MK Yael German. "Support increases every year, and it crosses party lines, including the Zionist Orthodox Jewish Home party's voters."