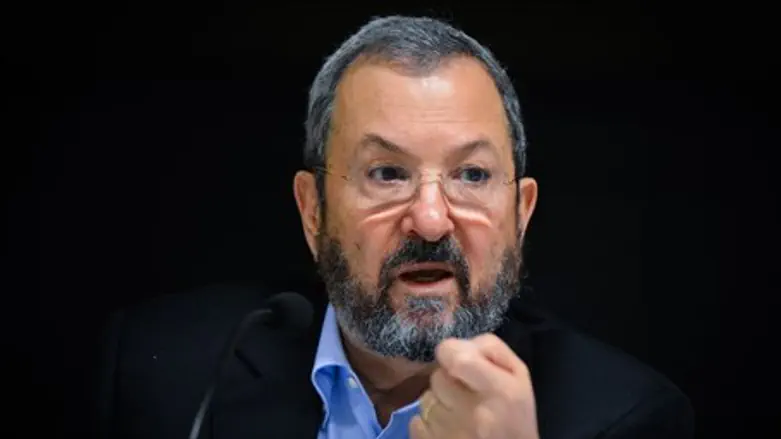 Ehud Barak
Flash 90
Former prime minister and defense minister Ehud Barak launched a scathing attack on Prime Minister Binyamin Netanyahu Thursday at the Herzliya Conference and called for a "popular protest" – as well as the next elections – to bring Netanyahu down from power.
"A fanatical nucleus of radical ideology," he said, "has taken over the Likud by taking advantages of loopholes in the party's constitution regarding primaries, and 'cleansed' Likud's leadership of all those who valued democratic values more than populism or a temporary accomplishment."
In the face of Islamist terror worldwide, he accused, Netanyahu's government is mired in pessimism, passiveness, stress and a victim's mindset. This is the complete opposite of the Zionist ethos, the crux of which was and continues to be, taking our destiny in our own hands.
"Implementing the government's current policy will necessarily lead to an 'apartheid state' or a 'binational' state with a Jewish minority within a generation or two, with a high likelihood of being engaged in an ongoing civil war between its two parts," he prophesied.
Barak outlined what he sees as Netanyahu's conspiracy to annex Judea and Samaria. Netanyahu and his ministers realize that implementation of his agenda will encounter opposition from the Supreme Court, which will annul them, and cause "civil society" to pour into the streets in masses and block the move, he explained. "Therefore, it is vital to act in advance, over time and gradually, in order to weaken the Supreme Court, diminish its authority and shrink its status, break the confidence of 'civil society', intimidate, lull to complacency and silence any critical discourse. All these are being done daily in front of our eyes," he charged.
Netanyahu seeks to reeducate the IDF with the motto, 'We are all Elor Azaria the hero,' Barak said – a reference to the soldier who is on trial for shooting dead a wounded terrorist at close range in Hevron.
"Netanyahu likes to talk about 'threats of annihilation' compulsively and without a real reason," he charged, and vowed that none of the threats currently facing Israel is existential, nor will it be in the foreseeable future.
Barak called to freeze construction in "isolated" communities in Judea and Samaria, and strengthen the Palestinian Authority. He said a bill should be passed for granting compensation to (Jewish) people evicted from their homes, and for their absorption in new communities.